American Journal of Orthodontics and Dentofacial Orthopedics, 2022-05-01, Volume 161, Issue 5, Pages 739-745, Copyright © 2022 American Association of Orthodontists
It is not uncommon for orthodontists to encounter patients whose malocclusion results, at least in part, from an underlying skeletal discrepancy. In many patients, these discrepancies can be fully corrected with growth modification with or without dental compensation to achieve a Class I occlusal relationship. A subset of patients with moderate skeletal deformities in whom surgery is ideally indicated but who choose to defer surgical treatment may be at risk for long-term adverse consequences on facial esthetics. As a surgeon who performs both orthognathic and facial esthetic surgery, the senior author has had the opportunity to appreciate the contributions of underlying skeletal deformities to his patients' esthetic concerns. These patients often present years after orthodontic treatment with complaints of early facial soft tissue laxity, facial disproportion, and overall dissatisfaction with facial appearance. The authors hope to illustrate to the orthodontic community the clinical picture of adult patients who present to the offices of surgeons dissatisfied with their appearance secondary to the uncorrected skeletal deformity. This paper aims to increase orthodontists' awareness of the long-term effects of uncorrected skeletal dysplasia on facial appearance. The ultimate goal is to allow the informed consent process to incorporate these esthetic consequences and to facilitate patient decision making. This article serves as Part I of a 2-part series reviewing a surgeon's approach to patients who present with facial skeletal disharmony after orthodontic treatment with dental compensation.
Highlights
Patients with malocclusion and a skeletal abnormality require thorough consultation.

Uncorrected skeletal dysplasia may have adverse esthetic consequences.

Patients may develop jowls, marionette lines, and other signs of premature aging.

We encourage orthodontists to discuss the long-term impacts of treatment on the facial form.

Informed patients can better weigh the pros and cons of orthognathic surgery.
It is not uncommon for the orthodontist to encounter a patient in whom a skeletal discrepancy contributes significantly to dental malocclusion. For many of these patients, the goal of establishing a Class I occlusion can be approached with a surgical-orthodontic treatment plan or with dental compensation alone. Orthognathic surgery is often reserved for patients in whom dental compensation alone would be insufficient. In many patients, an improved occlusal relationship can be obtained with either approach, but compensation alone—whether spontaneous or induced—in a patient with a significant skeletal discrepancy may lead to dissatisfaction with facial appearance that may necessitate future surgical correction. As an esthetic surgeon with oral and maxillofacial training, the senior author regularly evaluates adults whose esthetic concerns are related directly to underlying skeletal deformities that were not addressed when the patients underwent compensatory orthodontic treatment at a younger age. The purpose of this article is to highlight this patient population and to detail the unintended adverse consequences of uncorrected skeletal dysplasia on facial form that may occur in both young and mature patients. We hope that an improved understanding of the esthetic impacts of uncorrected skeletal discrepancy will enhance how orthodontists communicate these possible adverse sequelae to their patients while considering a surgical vs nonsurgical approach to care.
Underlying skeletal discrepancy
The most commonly encountered skeletal discrepancy reflects the underdevelopment of the lower jaw that results in Class II Division 1 and Class II Division 2 malocclusion. Ideally, treatment for this type of skeletal discrepancy would consist of orthodontic treatment in conjunction with lower jaw advancement to correct the occlusion with or without genioplasty to augment mandibular projection. However, when many of these patients seek orthodontic intervention during adolescence, patients and parents alike may interpret the prospect of orthognathic surgery as overly invasive or aggressive. Especially in young patients who are borderline cases and do not understand that future growth may have adverse consequences, initiating a discussion of orthognathic surgery can prove challenging. In these patients there may be an inclination to present the outcomes of orthognathic surgery and dental compensation alone as similar, with patients consequently choosing the treatment that achieves a Class I occlusion without requiring surgical intervention.
One approach to offering these patients a nonsurgical solution is to compensate for overbite and overjet by extracting premolars from the maxillary arch to allow for retraction of the maxillary anterior teeth. However, as the interincisal angle becomes more obtuse, support for the upper lip is lost, and the upper lip begins to fall posteriorly as well. It is important that the orthodontist retracts the maxillary anterior teeth with torque control. Given that the original underlying abnormality in these patients is mandibular hypoplasia, the result of this approach is the persistence of mandibular retrognathia and retrusion of the upper lip. The loss of upper lip support compounded by a retrusive lower jaw frequently gives the appearance of a large nose even when nasal dimensional analysis shows that the nasal dimensions are within normal limits. , Thus, although the orthodontist has improved occlusion in these patients, facial form has been severely compromised. Especially given that nasal growth is expected from adolescence onward and may be more pronounced in some patients, these patients represent the majority of those who seek chin augmentation and a large percentage of those who present for rhinoplasty ( Fig 1 ).

Fig 1

If the maxillary anterior teeth have been retracted to reduce overjet in a patient with skeletal Class II Division 1 malocclusion, the upper lip will follow the incisors and retract. The lack of lip projection manifests as deficient anterior lip projection in the profile view of the face and a thin upper lip vermillion in the frontal view of the face. Patients frequently present with concerns about inadequate lip projection and volume requesting procedures such as dermal fillers and lip lifts to restore lip fullness and vermillion projection. The loss of lip support also creates an obtuse nasolabial angle which contributes to the perception of excess nasal projection. This deformity is difficult to correct in patients who are dissatisfied with their appearance.
Because the underlying etiology of patients with skeletal Class II Division 1 malocclusion is mandibular hypoplasia, deficient chin projection is seen nearly universally in patients who have undergone dental flaring of the mandibular anterior teeth to mask their Class II occlusion. This lack of chin projection can be particularly concerning for the young patient because of the profile view of their face ( Fig 2 ). Although certain aspects of aging are unavoidable, several factors can influence both the way and the rate at which patients experience the process. The observations of the senior author suggest that the deficient chin projection of patients with skeletal Class II Division 1 malocclusion is a risk factor for accelerated signs of aging. Although it is common for the jawline to soften with age, suboptimal bony support for soft tissue in patients with skeletal Class II malocclusion increases redundancy in the lower facial third and the neck in the profile view. Conceptually, it should also be noted that the chin is morphologically an entity of its own. From the frontal view, insufficient chin projection may also create the perception of a short chin, giving the face an obtuse, ill-defined shape .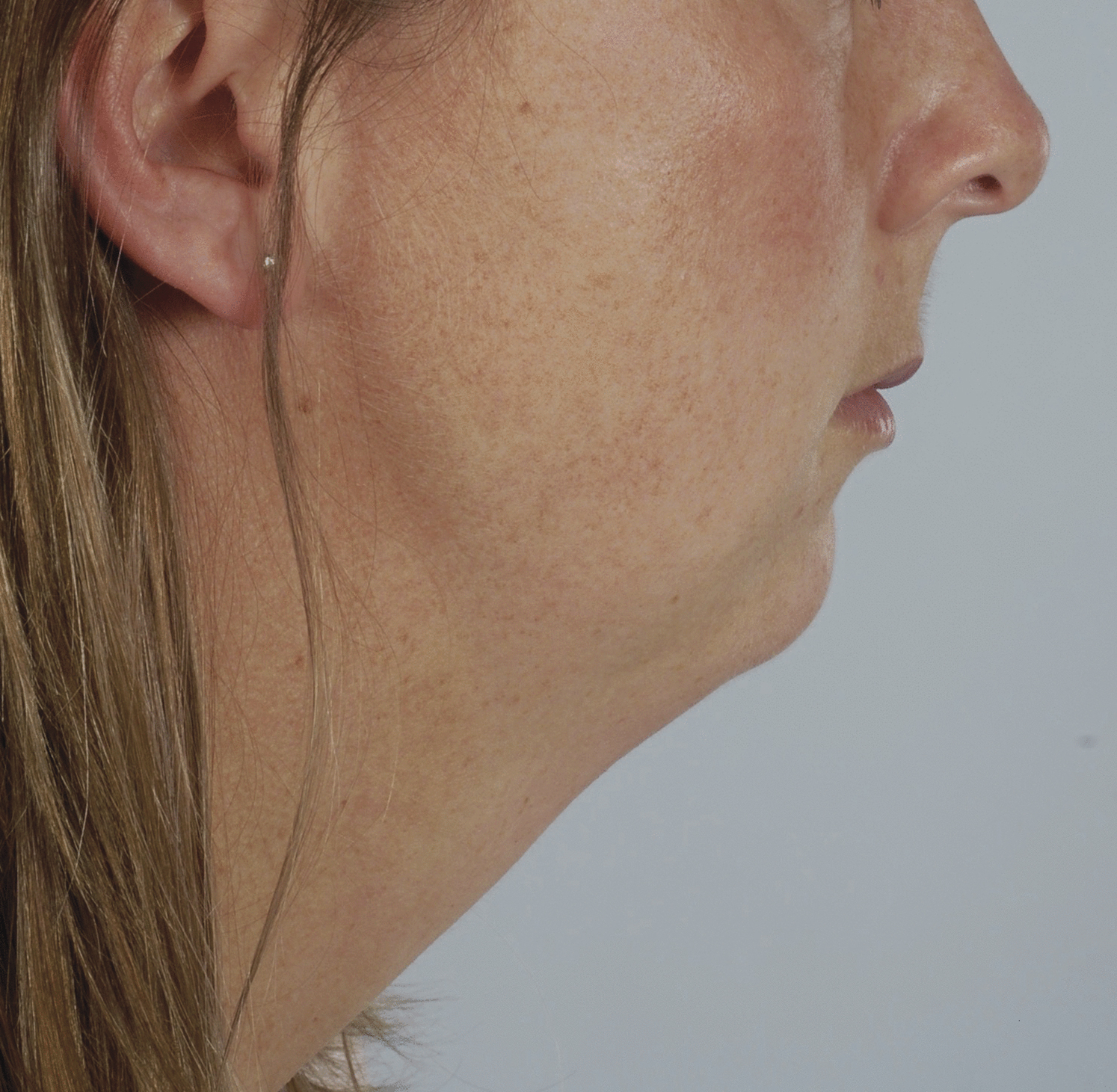 Fig 2

An additional commonly encountered problem is in the patient with compensated Class I dental occlusion with good chin projection relative to the lower lip but with both the chin and lower lip posteriorly positioned relative to the midface. These patients often present in young adulthood to middle-age and request a neck lift. However, there is no excess skin or fat on examination and no room to move the chin forward without creating excessive chin projection relative to lip projection. The concerns of these patients relate to the short distance from the anterior neck to the pogonion, giving them an obtuse, full appearance that is difficult to correct with liposuction, cervicoplasty/platysmaplasty (neck lift), or genioplasty. Dental decompensation followed by mandibular advancement is the treatment of choice for these patients because it addresses the root cause of their esthetic concerns ( Fig 3 ). Procedures such as platysmaplasty may be discussed as options after mandibular advancement for further augmentation of the soft tissue (ie, targeting the contour of the cervicomental angle). These adjunct procedures are addressed in the accompanying manuscript on orthognathic camouflage.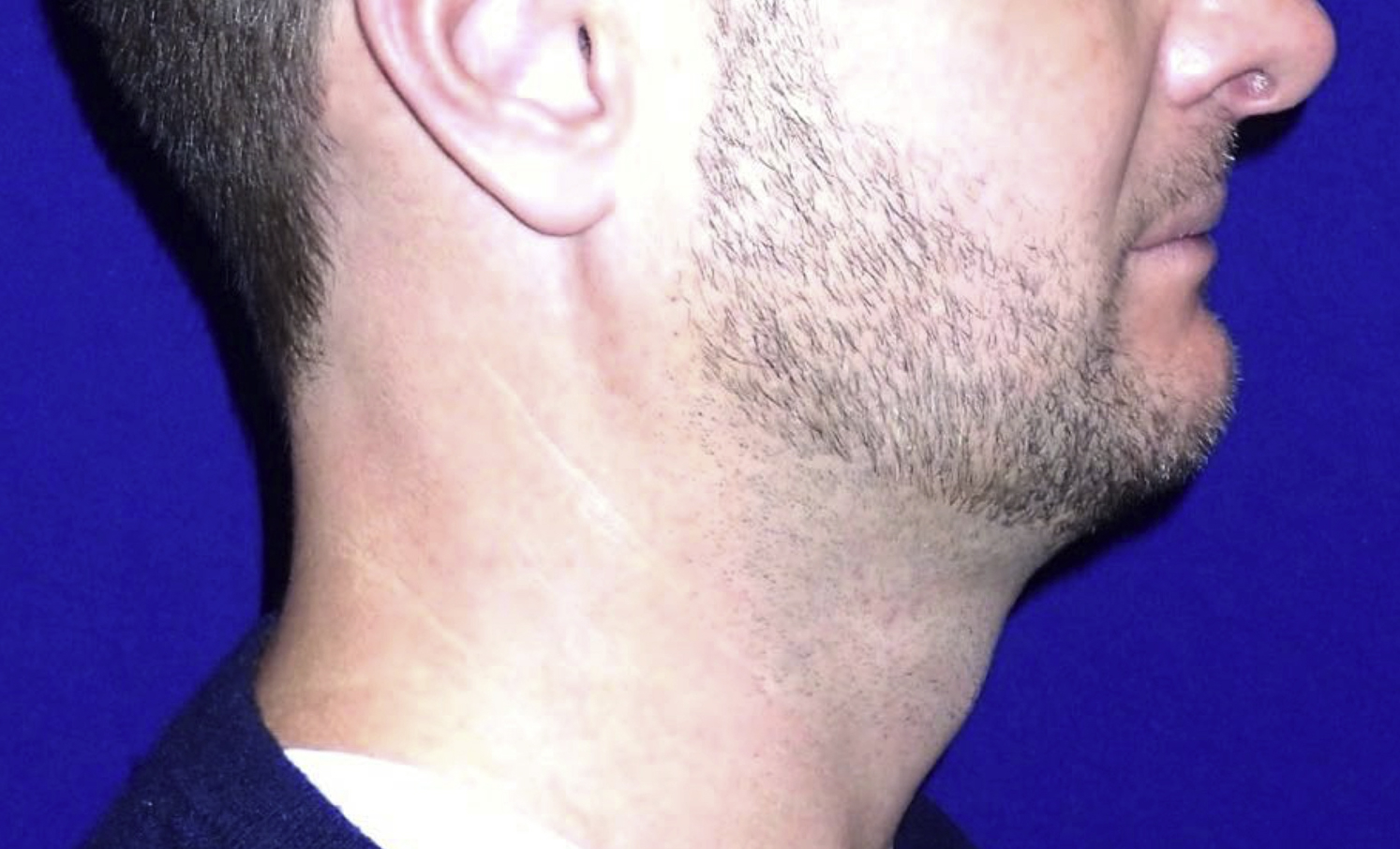 Fig 3

Patients may present with Class III malocclusion that could be improved with dental compensation. However, on facial analysis, many of these patients demonstrate a degree of maxillary deficiency combined with soft tissue stigmata associated with a lack of midfacial skeletal projection—namely deep nasolabial creases and perialar hollowing—as early as in the fourth decade of life. They are also susceptible to premature development of facial aging, such as malar cheek pad ptosis, further deepening of the nasolabial creases, and marionette lines. The discussion of the long-term consequences of a nonsurgical approach may initially be overwhelming for these patients, but this conversation is essential to ensuring that they are well-equipped to make an informed decision regarding treatment. For those patients who are not initially receptive or require more time to consider their options, the dialogue regarding long-term effects can be emphasized as a recurring theme.
In a patient with skeletal Class III malocclusion undergoing compensatory orthodontics the mandibular anterior teeth will be retracted causing the lower lip to follow the teeth and fall posteriorly. The posterior position of the lower lip may give the chin an overprojected appearance and an excessively obtuse labiomental angle. Ideally, the pogonion lies at or only approximately 3 mm posterior to the anterior lower lip in a female and at or just anterior to the lower lip in a male. Given that the lower lip to the pogonion relationship is a critical determinant of ideal chin projection, it is important to avoid lip retrusion as a result of compensatory loss of lip support.
Discussion
Because orthodontists can achieve acceptable results with compensation of Class II or Class III malocclusion in their patients, discussions with patients and their parents regarding the possible adverse consequences of foregoing surgical correction of underlying skeletal discrepancy may be challenging. Therefore, it is important that orthodontists review the consent form with their patients when deciding between dental compensation and orthodontics in conjunction with orthognathic surgery. The senior author has observed that many patients seeking facial esthetic consultations present with esthetic concerns related to underlying skeletal discrepancies of their jaw relationship. Many of these patients report a history of compensatory orthodontics in adolescence to correct their malocclusion. When these patients are informed during their consultation that their uncorrected jaw discrepancy contributes to many of their esthetic concerns, they frequently report that they were offered orthognathic surgery but did not realize the unintended esthetic consequences that would result from declining to correct the skeletal dysplasia. Given that many of these patients and parents choose between a surgical and nonsurgical approach during adolescence, it is unsurprising that they may not thoroughly consider long-term esthetic sequelae on facial form in making a choice. It is also possible that years later when they present with esthetic concerns, they do not remember the details of the original consultation with their orthodontist or orthognathic surgeon.
In the senior author's rhinoplasty practice, most rhinoplasty consultations for large or overly-projected noses are in patients with mandibular hypoplasia and insufficient chin projection. In many patients, dimensional analysis of nasal form reveals a normal or nearly-normal nasal length and projection that merely appears large because of insufficient pogonion projection. When predictive 3-dimensional imaging is performed to advance the chin to its ideal position, the nose looks much more balanced with the face and often poses less of a concern to the patient. Therefore, chin augmentation is frequently performed in combination with rhinoplasty in this subgroup of patients.
Almost all patients presenting for chin augmentation exhibit a degree of mandibular retrognathia. In patients whose Class II malocclusion was corrected using a compensatory approach it is not possible to advance the mandible to its ideal position; thus, increased sagittal projection must be established with chin augmentation. Alloplastic chin augmentation or an osseous genioplasty can camouflage retrognathia and increase chin projection. Although adolescent patients may not voice concerns over the appearance of a weak chin at the time of initial orthodontic treatment, these esthetic concerns may become more apparent as the patient enters college and in later years. Studies have demonstrated a correlation between chin projection and success in the business world for men, so it is important to consider these implications when initiating a treatment plan for young patients.
Without skeletal support, soft tissues in the face may prematurely develop the stigmata of aging. In a patient with uncorrected mandibular skeletal hypoplasia, there is inadequate skeletal support of the lower facial third, and the age-associated changes in the facial soft tissues will impact the patient's appearance much sooner than if ideal skeletal projection were achieved. , , Although these effects are not seen in adolescence, the patient will be susceptible to them earlier in their life after undergoing compensatory orthodontics without normalization of skeletal support. Typical adverse effects of the hypoplastic mandible and chin are the premature presence of submental laxity, marionette lines, and jowls ( Fig 4 ). In patients with skeletally deficient midface Class III malocclusion, the consequences include premature development of deep nasolabial creases and folds, malar ptosis, and jowls .

Fig 4

The patient who undergoes orthognathic surgery for sleep apnea is an excellent example of the potential positive effects of skeletal expansion on the soft tissues of the face. These patients are typically middle-aged or older, and the 10 mm maxillomandibular advancement distends the facial soft tissue envelope from within, resulting in a more natural, rejuvenated appearance than many facelift patients. Optimal skeletal support delays the onset of the negative effects of aging on the facial soft tissues. When appropriate, the senior author will plan treatment for his middle-aged patients with supranormal cephalometric dimensions to take advantage of these beneficial esthetic effects. Millimeter differences seen on cephalometric analysis that may be "abnormal" are far outweighed by the beneficial esthetic soft tissue changes that result from optimal skeletal expansion ( Fig 5 ). These principles are incorporated into the treatment plan of every patient that is evaluated for orthognathic surgery. The senior author's philosophy is to develop a treatment plan that results in esthetic facial proportions and harmony at the time of surgery and provides optimal soft tissue support as the patient matures. Thus, adolescent patients receive a treatment plan that achieves an ideal occlusion immediately after surgery and accounts for the anticipated soft tissue changes associated with aging ( Fig 6 ).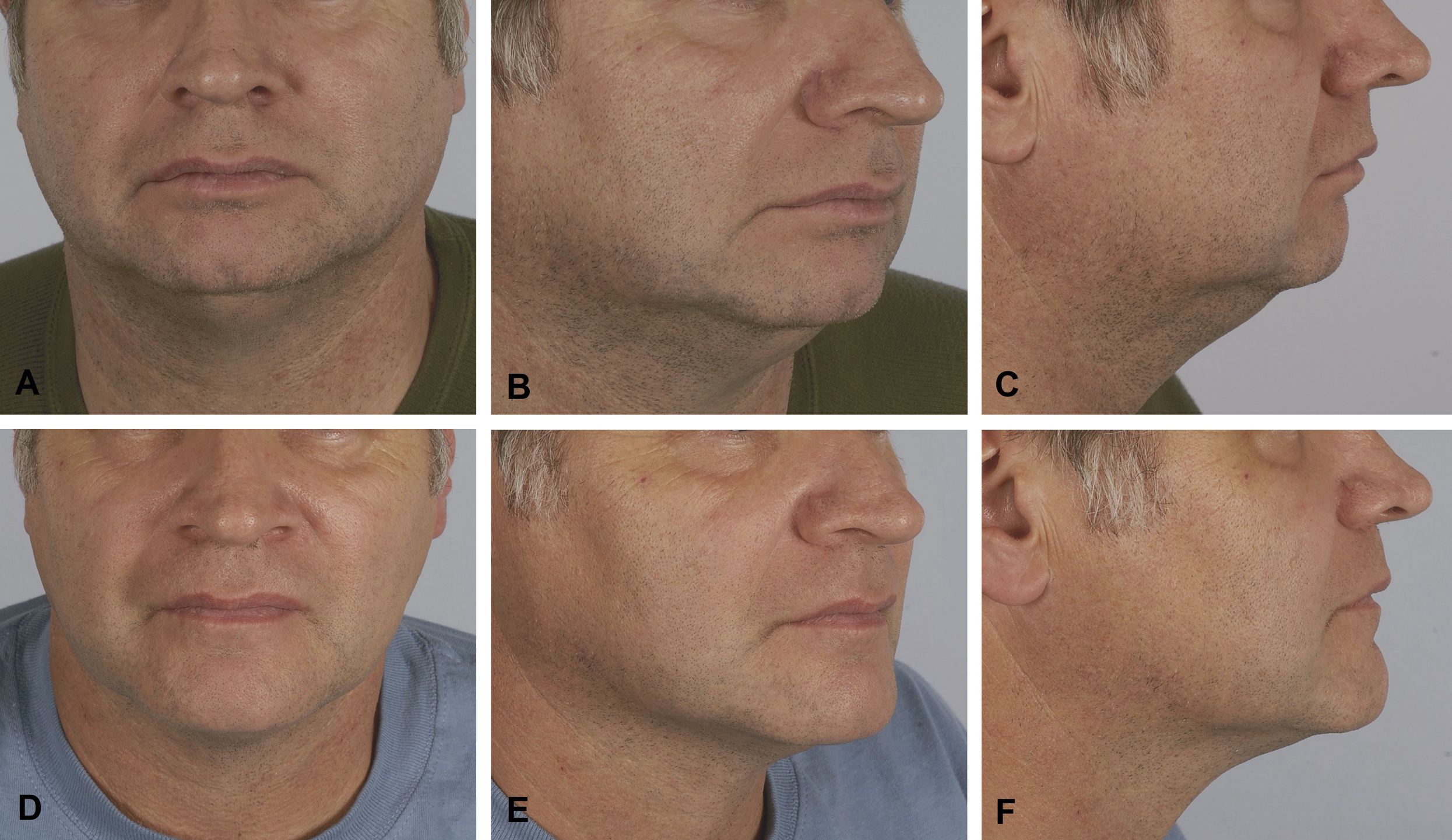 Fig 5


Fig 6

It is invaluable to note that a thorough approach to informed consent is integral to treatment planning, especially when parents and adolescents collaborate in the decision-making process. This dialogue must account for several factors including but not limited to medical comorbidities, cost, complications, and recovery time, especially when introducing the option of orthognathic surgery. All procedures are associated with short-term and long-term risks, and the ultimate choice to undergo any intervention is deeply personal. It is essential for providers to provide a sophisticated consultation regarding these risks and to be able to advise patients regarding the long-term interplay between skeletal support and soft tissue in the context of orthognathic surgery.
The rise of social media and teleworking, including video-streamed meetings, has increased awareness of one's appearance when viewed on the screen. Esthetic surgeons have noticed an increased number of patients presenting with esthetic concerns related to how they appear to themselves and others on the screen. , As our use of digital platforms increases and people progressively work longer before they choose to retire, self-awareness regarding one's appearance will grow increasingly important. With so many patients seeking orthodontic treatment, it is important that the orthodontist and the patient are aware of the long-term impact of the decision to treat skeletal discrepancies surgically as opposed to with dental compensation alone. The senior author encounters situations in which parents desire a surgical approach, but the adolescent patient is resistant to the thought of surgery. As an esthetic oral and maxillofacial surgeon, the senior author can show adolescent patients how they can expect to age by showing them older patients with similar skeletal dimensions who presented for facial rejuvenation. Even the most resistant adolescent will appreciate the deleterious effects on facial esthetics and better understand the benefits of orthognathic surgery after seeing the long-term effects of inadequately supported soft tissue. This "crystal ball" approach enables us to better educate our patients regarding surgical operations and facilitates the ability of patients and their parents to make informed decisions about treatment.
You're Reading a Preview
Become a DentistryKey membership for Full access and enjoy Unlimited articles
If you are a member. Log in here