American Journal of Orthodontics and Dentofacial Orthopedics, 2022-05-01, Volume 161, Issue 5, Pages 621-627, Copyright © 2021 American Association of Orthodontists
Introduction
The objective of this research was to investigate the effectiveness of orthodontic miniscrews for skeletal anchorage during anterior open bite treatment using cephalometric radiographs.
Methods
This study sample included 20 patients (mean age, 14.71; standard deviation, 1.77) with an anterior open bite. A total of 250 g of force was applied using elastic chains with anchorage from palatal miniscrew to an occlusal splint covering the posterior maxillary teeth. Cephalograms were obtained at the beginning of the treatment when the appliance was first applied and at the 8-month visit when treatment was completed. Paired t tests were used to identify statistically significant differences between initial and final measurements of skeletal and dental parameters.
Results
A decrease of 2.72 ± 1.90° in the SN-GoGn angle and 3.63 ± 1.87 mm in the anterior height (N-Me) parameter in the cephalometric evaluations indicated a significant improvement of vertically increased facial dimensions, with the intrusion of the maxillary posterior teeth ( P <0.05). Anterior rotation of the mandible was determined by a 1.76 ± 1.09° increase in the SNB angle and a 1.86 ± 0.90° decrease in the ANB angle ( P <0.05). Reductions in the open bite amount by 5.8 ± 0.90 mm, Mx6-SN by 4.00 ± 1.01 mm, and Mx6-PP by 4.01 ± 1.00 mm were indicative of significant intrusion in the maxillary posterior teeth ( P <0.05).
Conclusions
The present study confirmed that palatal miniscrew and maxillary occlusal splint caused intrusion of the maxillary posterior teeth, a decrease in the anterior open bite, and mandibular advancement, with anterior rotation after the maxillary posterior intrusion. We concluded that the treatment method in our study was appropriate for patients with Class I and mild Class II malocclusions and open bite anomalies.
Highlights
Treatment efficacy and molar intrusion value were investigated.

A minimally invasive open bite treatment method was designed.

Open bite malocclusion treatment using the miniscrew yielded enough molar intrusion.
Anterior open bite is one of the most difficult malocclusions to treat in orthodontics, with a very high recurrence rate. The morphologic properties of an anterior open bite usually include excessive vertical dimensions, long lower facial third, increased development of the maxillary posterior dentoalveolar structure, and a steep mandibular plane. Anterior open bites have a multifactorial etiology, including habitual components like thumb-sucking and tongue and lip habits, airway obstruction, allergies, septum problems, enlarged tonsils and adenoids, neurologic problems, dental problems, and skeletal growth abnormalities.
The conventional orthodontic treatments for the correction of an anterior open bite include bite-blocks, high-pull headgear, and new facemask designs to achieve dentoalveolar intrusion of the maxillary posterior segments. Fixed mechanics, multiloop edgewise archwires, extraction therapy, intermaxillary vertical elastics, and inhibition of molar eruption during growth have also been used to treat the anterior open bite. , These modalities have been recommended for the passive intrusion of the maxillary posterior segment and anterior dentoalveolar extrusion. However, none of these treatment approaches are satisfactory because of negative effects on the skeletal and/or esthetic pattern and a serious tendency for relapse.
Surgical correction of a skeletal open bite often requires maxillary impaction to achieve a counterclockwise rotation of the mandible and a subsequent decrease in anterior facial height. The complexity, risks, and costs of surgical treatments have motivated a search for alternative clinical procedures, especially skeletal anchorage.
Recently, dental implants, miniplates, and miniscrews have been used as anchorage units in orthodontic treatments. These techniques can supply the anchorage that is needed for specific dental movements, regardless of patient cooperation. Changes in dentofacial structures resulting from molar and buccal segment intrusion with miniplates placed in the zygoma have been shown in many studies and case reports, and successful molar intrusion and open bite treatments have been reported with miniscrew anchorage. However, these studies have generally been isolated case reports, and more comprehensive studies are needed. To our knowledge, there are no studies in the literature about open bite treatment with a single palatal miniscrew and an occlusal splint therapy.
This study aimed to evaluate the use of maxillary palatal anchorage to intrude the maxillary posterior dentoalveolar segment to correct skeletal open bite in patients.
Material and methods
Ethics committee approval for the study was obtained in accordance with the decision of the Clinical Research Ethics Committee of Alanya Alaaddin Keykubat University Faculty of Medicine (2016/45). Before this study, a power analysis was performed with G∗Power (version 3.0.10; Franz Faul University, Kiel, Germany) to estimate the required sample size. Accordingly, the number of patients required for 95% statistical power for 2 dependent sample t tests to be performed at an α = 0.05 significance level with an effect size of 0.8 was determined to be at least 20.
This study included 20 postadolescence patients (14 females, 6 males; mean age, 14.71; standard deviation, 1.77), with Angle Class I or mild Class II dental relationships and anterior open bites. Hand-wrist radiographs were taken to determine the maturational status of the patients, and postadolescence patients in the Ru stage were included in the treatment. Patients with maxillary transverse deficiency and Class III malocclusion were excluded from the study. Six of the patients had Class I occlusions, the other 14 patients had mild Class II malocclusions, and all were in permanent dentition. All patients were treated with a palatal miniscrew and a maxillary occlusal splint appliance designed by L.C.A and M.A.
Miniscrew placement was conducted using local infiltration anesthesia (Ultracaine DS Forte, Sanofi, Turkey). The orthodontic miniscrew (Anchorplus, Dual-top Anchor System; Jeil Medical, Seoul, South Korea) was 1.6 mm in diameter and 10 mm in length and was placed on the maxillary posterior palatinal region 1 mm to the right of the maxillary suture at the root level of the first molar teeth using a physiodispenser (Elcomed SA-310 Physiodispenser; W&H Dentalwerk, Bürmoos, Austria).
The appliance used in our study was designed from acrylic covered the maxillary premolar and molar teeth to increase the occlusion slightly. The appliance included 2 stainless steel wires that connected the right and left posterior acrylic blocks to each other to prevent a transverse deficiency of the maxillary arch. These wires passed 5 mm away from the mucosa to prevent damage to the palatinal mucosa when the posterior teeth were intruded. In the palatinal gingival areas of the maxillary posterior teeth of the appliance, 2 right and 2 left hooks of 0.9 mm stainless steel were fixed. Glass ionomer cement (Ketac Cem Glass Ionomer Cement; 3M ESPE, Seefeld, Germany) was used to bond the appliance.
In the same session, a second-generation elastic chain (Clear Generation II Power Chain; Ormco, Orange, Calif) with an intrusive 250 g of force per side was applied from the miniscrew to the hooks in the appliance ( Fig 1 ). The force was calculated according to the root number of the teeth for proximity to optimal values. Patients were evaluated once every 4 weeks, elastic chains were changed at each appointment, and the anterior open bite was measured and recorded.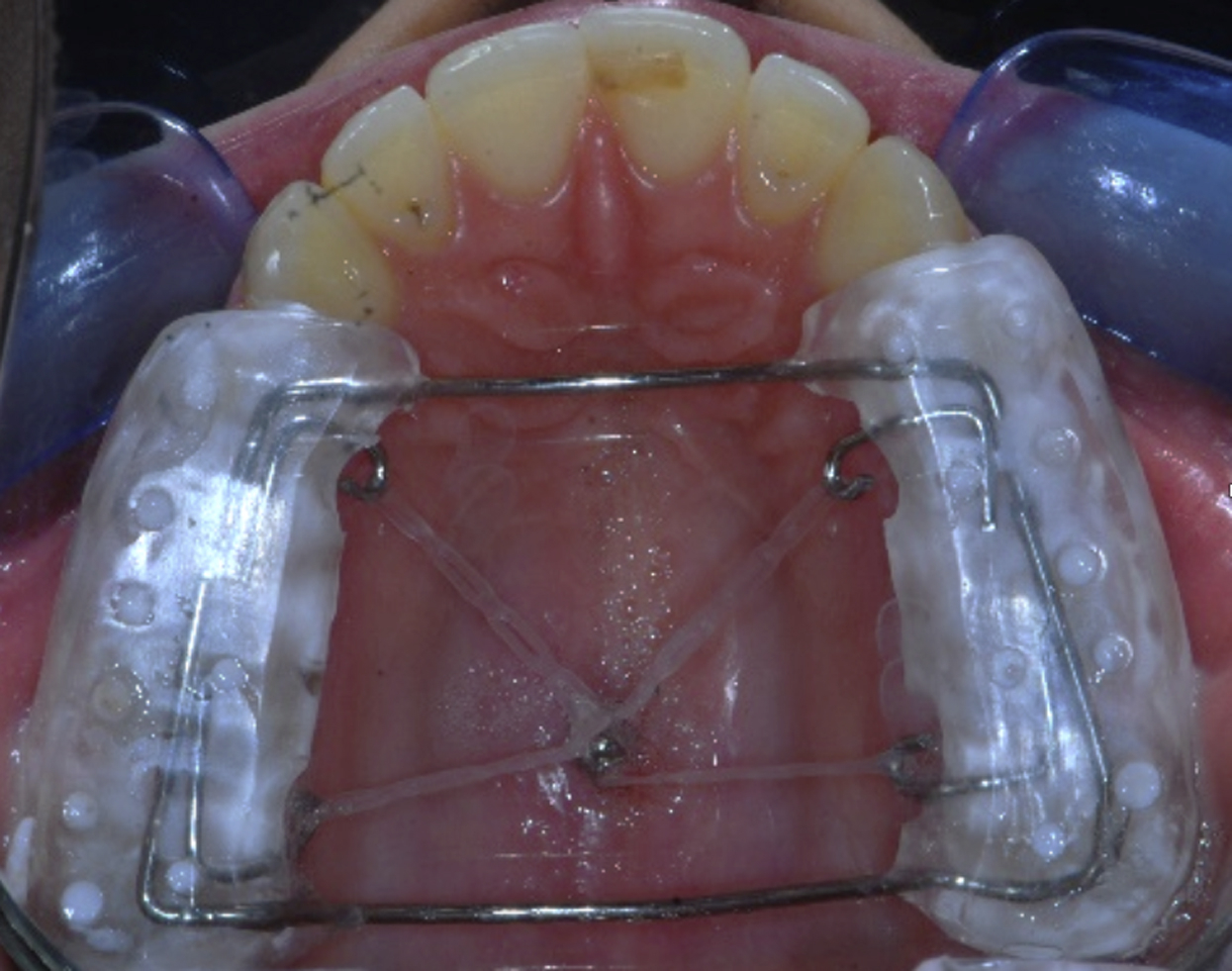 Fig 1

The anterior open bite was corrected in approximately 8 months. The amount of intrusion of the posterior teeth was evaluated by cephalograms at the beginning (T1) and end (T2) of the treatment with the occlusal splint ( Fig 2 ). Fifty-one measurements were made on each lateral cephalogram to assess the skeletal, dental, and soft tissue changes. At the end of intrusion after debonding appliance, all patients were applied transpalatal arch for vertical holding, and fixed orthodontic treatment was initiated.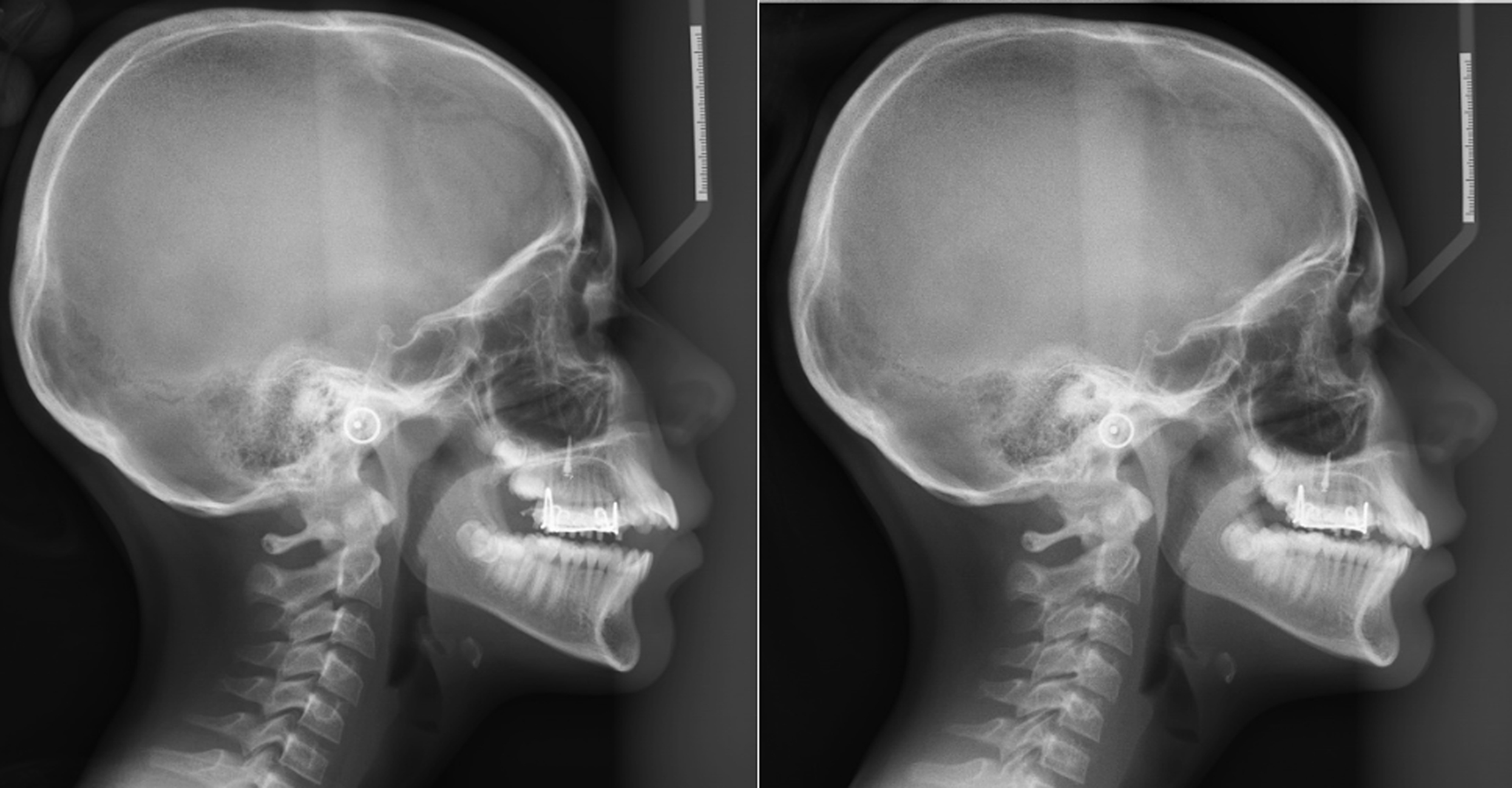 Fig 2

Statistical analysis
Statistical calculations were performed with SPSS (version 21.0; SPSS, Chicago, Ill). Normal distribution of permanent variables was investigated using the Shapiro-Wilk test. Mann-Whitney U tests were used to test the age distribution of the patients and gender differences between the beginning and ending measurements (T1 − T2). In addition, the relationships between the parameters and the age of patients were determined by Spearman's rho correlation coefficient.
To determine whether there were statistically significant differences between the initial and final measurements of the skeletal and dental parameters, the data were evaluated with paired sample t test. The obtained statistics were shown as means and standard deviations in the tables. A P value of <0.05 was considered statistically significant.
To determine the method error, 10 randomly selected cephalograms were retraced and remeasured by the same author (L.C.A) after an interval of 3 weeks. Intrarater correlation coefficients were found to be between 0.91 and 0.95.
Results
A total of 20 patients, with 14 females and 6 males, were included in the study. Table I shows the results of the analysis for gender-based differences in the ages of included patients. According to the findings, there were no statistically significant differences between the ages of male and female patients (P >0.05).
Table I
| Gender | n | Mean | Standard deviation | Minimum | Maximum | P value |
| --- | --- | --- | --- | --- | --- | --- |
| Male | 6 | 15.68 | 1.6 | 12.75 | 17.25 | 0.090 |
| Female | 14 | 14.3 | 1.73 | 12 | 17.5 | |
| Total | 20 | 14.71 | 1.77 | 12 | 17.5 | |
Table II shows the results of Spearman's rho correlation analysis to determine the relationship between age and parameter measurement differences. According to the findings, no statistically significant linear correlations could be identified between any parameter measurement difference and the age of the patients ( P >0.05).
Table II
Parameters
Age, y
Spearman's rho
P value
ANS-Me
0.038
0.871
SN-GoGn
−0.05
0.833
SN-OP
−0.202
0.390
N-Me
−0.121
0.612
PP-MP
0.117
0.621
MP-OP
0.085
0.719
PP-OP
0.113
0.633
Interincisal angle
−0.191
0.418
Mx6-SN
0.173
0.463
Table III shows the results of the differences in parameter measurements (T1 − T2) by gender. According to the findings, the parameters did not show a significant difference according to gender ( P >0.05).
Table III
Parameters
Male
Female
P value
Mean
Standard deviation
Mean
Standard deviation
ANS-Me
−4.6
2.62
−4.94
1.18
0.649
SN-GoGn
−2.91
2.05
−2.63
1.91
0.71
SN-OP
5.91
3.09
6.39
1.81
0.71
N-Me
−3.66
2.59
−3.61
1.6
0.836
PP-MP
−3.13
2.45
−3.47
2.2
0.999
MP-OP
−8.83
2.89
−9.05
2.26
0.934
PP-OP
5.7
1.82
5.58
1.58
0.999
Interincisal angle
6.2
0.78
5.64
1.02
0.148
Mx6-SN
−3.55
0.71
−4.18
1.07
0.2
Mx6-PP
−3.83
0.9
−4.05
1.06
0.934
Skeletal measurement parameters are given in Table IV . There were statistically significant differences on 15 angular and 8 linear measurements ( P <0.05). There was a decrease in the sagittal Class II relationship between the maxilla and mandible. Anterior rotation of the mandible and a decrease in increased anterior face heights were found with the intrusion of the maxillary molar teeth. Dental measurement parameters are given in Table V . According to the findings, there were significant differences in 3 angular and 4 linear measurements ( P <0.05).
Table IV
Parameters
T1
T2
Difference
P value
Mean
SD
Mean
SD
Mean
SD
SNA
79.84
3.45
79.73
3.38
0.11
0.55
0.284
SNB
74.77
3.59
76.53
3.8
−1.76
1.09
0.001∗∗∗
ANB
5.07
2.36
3.21
2.68
1.86
0.9
0.001∗∗∗
A to N − |FH (N perp-A)
−0.72
3.59
−0.69
4.25
−0.03
1.85
0.350
Pogonion to N − |FH (N perp-Pg)
−11.98
6.81
−7.78
6.64
−4.19
3.32
0.001∗∗∗
Midfacial height (N-ANS)
50.82
3.98
51.01
3.58
−0.19
0.98
0.393
Lower anterior facial height (ANS-Me)
76.1
6.72
71.24
6.91
4.86
1.67
0.001∗∗∗
Anterior facial height (N-Me)
124.56
9.57
120.93
9.49
3.63
1.87
0.001∗∗∗
ANS-Me/N-Me
61.07
1.86
58.61
1.83
2.46
0.62
0.001∗∗∗
N-ANS/ANS-Me
67
5.09
72.77
5.85
−5.77
2.34
0.001∗∗∗
Jarabak ratio
59.47
4.72
61.62
5.08
−2.14
1.54
0.001∗∗∗
SN-GoGn
45.14
6.15
42.42
6.57
2.72
1.9
0.001∗∗∗
FMA
35.71
4.9
32.8
5.11
2.91
2.29
0.001∗∗∗
FH-OP
9.42
4.18
15.52
4.52
−6.1
2.27
0.001∗∗∗
SN-PP
6.74
3.55
6.98
3.2
−0.24
1.8
0.550
SN-OP
18.87
4.55
25.12
4.91
−6.25
2.19
0.001∗∗∗
PP-MP
38.41
5.17
35.04
5.23
3.37
2.22
0.001∗∗∗
MP-OP
26.28
5.23
17.29
6.04
8.99
2.39
0.001∗∗∗
PP-OP
12.12
3.44
17.74
3.27
−5.62
1.6
0.001∗∗∗
Y axis
66.37
2.98
63.71
3.3
2.65
1.73
0.001∗∗∗
Convexity distance
4.96
2.55
3.16
3.14
1.8
1.15
0.001∗∗∗
Articulare angle
150.39
9.14
144.87
9.38
5.52
5.87
0.001∗∗∗
Saddle angle
122.62
5.28
123.16
4.72
−0.54
2.27
0.380
Gonial angle
132.13
5.94
132.95
6.17
−0.82
2.83
0.046∗
Sum of the posterior angles
405.14
6.15
402.42
6.57
2.72
1.9
0.001∗∗∗
Convexity angle
9.69
5.06
6.38
6.21
3.31
2.21
0.001∗∗∗
Pog-NB
−0.12
1.4
−0.04
1.75
−0.08
0.85
0.254
Holdaway difference
8.54
2.88
7.88
2.97
0.66
0.6
0.001∗∗∗
Nasolabial angle
114.5
12.06
114.36
8.83
0.14
6.31
0.879
Upper lip to E-line (mm)
−0.73
2.26
−1.91
2.78
1.17
1.63
0.003∗∗
Lower lip to E-line (mm)
1.5
2.55
0.75
3.11
0.75
1.72
0.096
Holdaway angle (H-line angle)
20.51
5.48
19.19
6.07
1.32
3.53
0.062
Lower lip to H-line
1.98
1.29
2.11
1.79
−0.13
1.25
0.808
Table V
Parameters
T1
T2
Difference
P value
Mean
SD
Mean
SD
Mean
SD
Mx1-SN
109.1
4.85
109.29
6.11
−0.19
3.13
0.695
Mx1-Pal
−64.15
3.6
−63.32
4.54
−0.82
2.88
0.687
Mx1-NA (mm)
8.2
2.48
8.31
3.01
−0.11
1.59
0.965
Mx1-NA (°)
29.26
5.43
29.55
6.47
−0.29
3.07
0.837
Mx1-OP (°)
127.96
2.76
134.41
4.12
−6.45
3.05
0.001∗∗ ∗
IMPA
95.7
5.6
95.99
5.26
−0.29
1.73
0.519
Md1-NB (°)
35.63
3.79
34.39
3.8
1.23
1.24
0.001∗∗ ∗
Md1-NB (mm)
8.42
1.83
7.66
1.67
0.76
0.83
0.001∗∗ ∗
Md6-MP (mm)
26.23
2.76
26.48
2.96
−0.25
1.09
0.338
Interincisal angle
109.74
4.52
113.14
4.71
−3.4
1.93
0.001∗∗ ∗
Overjet (mm)
5.82
2.18
4.16
2.36
1.65
1.1
0.001∗∗ ∗
Overbite (mm)
−9.03
1.74
−3.22
1.74
−5.81
0.97
0.001∗∗ ∗
Mx6-SN
67.31
5.82
63.3
6.39
4
1.01
0.001∗∗ ∗
Mx6-PP
21.26
3.41
17.25
3.92
4.01
1
0.001∗∗ ∗
You're Reading a Preview
Become a DentistryKey membership for Full access and enjoy Unlimited articles
If you are a member. Log in here