International Journal of Oral & Maxillofacial Surgery, 2015-03-01, Volume 44, Issue 3, Pages 301-307, Copyright © 2015 International Association of Oral and Maxillofacial Surgeons
Abstract
The aim of this study was to evaluate the effect of hyperbaric oxygen therapy (HBOT) on microvascular tissue and cell proliferation in the oral mucosa. Twenty patients, aged 51–78 years, were allocated randomly to a treatment or a control group. All had a history of radiotherapy (50–70 Gy) to the orofacial region 2–6 years previously. Tissue samples were taken from the irradiated buccal oral mucosa before HBOT and at 6 months after treatment. In the control group, tissue samples were taken on two occasions, 6 months apart. The samples were subjected to immunohistochemistry staining: double staining with CD31 and D2-40 for microvessels, or Ki-67 for the analysis of cell proliferation. Blood vessel density and area were significantly increased after HBOT ( P = 0.002–0.041). D2-40-positive lymphatic vessels were significantly increased in number and area in the sub-epithelial area ( P = 0.002 and P = 0.019, respectively). No significant differences were observed in the control group. There were no significant differences in Ki-67-expressing epithelial cells between the two groups. It is concluded that the density and area of blood and lymphatic vessels in the irradiated mucosa are increased by HBOT 6 months after therapy. Epithelial cell proliferation is not affected by HBOT.
Radiation injury to the normal tissues is an inevitable effect of radiotherapy in the treatment of cancer. In the head and neck region, the skin, mucosa, subcutaneous tissue, bone, and salivary glands may be included in the field of radiation. Late effects in normal tissues may present clinically as skin and mucosal atrophy, fibrosis, bone necrosis, trismus, and xerostomia, thereby negatively affecting patient quality of life.
Histologically, radiated tissue is characterized by atrophy, changes in cellular morphology, increased collagen deposition, a decreased number of blood vessels, and dilatation of the remaining vessels.
The clinical consequences of the late effects of radiotherapy may pose a significant therapeutic challenge. Currently, hyperbaric oxygen treatment (HBOT) is used as a single modality or as an adjunct to surgery to improve wound healing by inducing angiogenesis and increased oxygen tension in hypoxic tissues. The increased partial pressure of oxygen by HBOT in tissue is thought to induce the necessary oxygen gradient to stimulate collagen production by fibroblasts and capillary angiogenesis.
Experimental animal studies by Marx et al. and human studies by the same group have reported significantly increased vascular density in irradiated skin, subcutaneous tissue, periosteum, and bone marrow after treatment with HBOT. The angiogenic effect has been confirmed in bone in other animal models and a human dynamic magnetic resonance imaging (MRI) study, but there is a paucity of data in the literature regarding soft tissue.
The authors of the present study have recently demonstrated an increase in microvascular capacity in irradiated skin and mucosa after HBOT. This may represent improved endothelial function or vascular capacitance and indicates a need for histomorphometric analysis of the microvascular effects of HBOT in soft tissue in order to further elucidate the role of HBOT.
The aim of the present study was to test the null hypothesis of no effect of HBOT on the morphology of the microvasculature in the irradiated oral mucosa.
Results
To assess the reproducibility of the measurements, 15 sections were re-evaluated after 4 weeks for both microvessel density and cell proliferation. Both measures were highly reproducible with an ICC of 0.98 for microvessel density and 0.99 for cell proliferation. There were no differences between the groups with respect to age ( P = 0.624), radiation dose ( P = 0.734), or time interval since the last radiation session ( P = 0.343).
All biopsy sites had full mucosal coverage at the time of the second harvesting. One patient experienced subcutaneous emphysema after performing the Valsalva manoeuvre shortly after a biopsy procedure. This was treated with prophylactic antibiotic therapy and resolved in a few days. There were no other complications reported by the patients, and no major complications caused by the HBOT were observed. None of the patients presented a marked lymphoedema at baseline. A potential effect on lymph vessels could therefore not be clinically assessed.
Histomorphology
All sections presented a normal stratified squamous epithelium ( Fig. 1 ). Dilated vessels in papillary projections of the connective tissue were seen in some of the sections, but were not a consistent finding. The vessels in the papillary projections were found to be blood vessels ( Fig. 2 ). The connective tissue contained a scarce inflammatory infiltrate both before and after HBOT.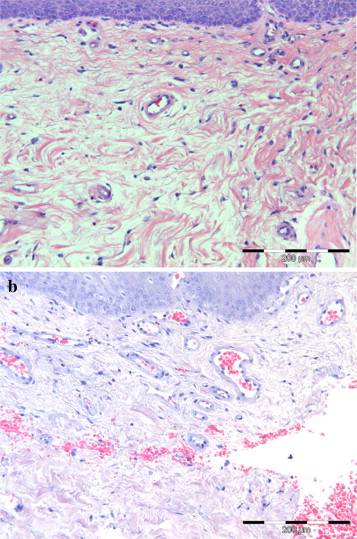 Fig. 1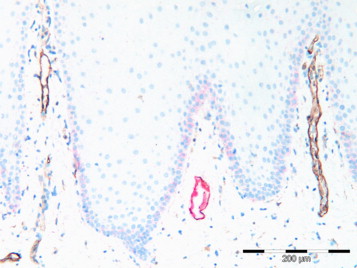 Fig. 2

Microvessel density
Both blood vessel density and blood vessel area were significantly increased after HBOT ( P = 0.002–0.041). The effects were more pronounced in the sub-epithelial area than in the deeper connective tissue ( Table 2 ), and were largely due to an increase in the number of small vessels (diameter <25 μm). A significant increase in the number and area of D2-40-positive lymphatic vessels could be observed in the sub-epithelial area ( P = 0.002 and P = 0.019, respectively). Representative sections are presented in Fig. 3 . No significant differences were observed in the control group.
Table 2
HBOT group
Controls
Baseline
6 months
P -value
Baseline
6 months
P -value
Blood vessels
Sub-epithelial area
MVD
45.4 ± 13.9
98.0 ± 15.9 a
0.002
45.6 ± 15.7
49.3 ± 10.5
NS
MVA
1.5 ± 0.6
4.4 ± 1.9 a
0.003
1.5 ± 0.6
1.6 ± 0.5
NS
Deeper connective tissue
MVD
30.4 ± 10.1
45.1 ± 16.4 a
0.01
28.1 ± 9.6
34.4 ± 7.8
NS
MVA
2.5 ± 1.3
3.7 ± 1.3 a
0.041
2.2 ± 0.9
2.7 ± 1.4
NS
Lymph vessels
Sub-epithelial area
MVD
18.3 ± 8.1
36.1 ± 12.6 a
0.002
19.4 ± 6.2
16.9 ± 8.8
NS
MVA
1.3 ± 0.7
2.7 ± 1.8 a
0.019
1.2 ± 0.6
1.5 ± 0.7
NS
Deeper connective tissue
MVD
14.6 ± 7.2
16.8 ± 7.0
NS
13.1 ± 7.0
15.0 ± 5.3
NS
MVA
1.7 ± 1.1
1.5 ± 0.9
NS
2.0 ± 0.9
1.8 ± 1.1
NS
Proliferation index: Ki-67 (%)
23.2 ± 4.5
21.8 ± 1.6
NS
19.4 ± 4.0
20.0 ± 4.3
NS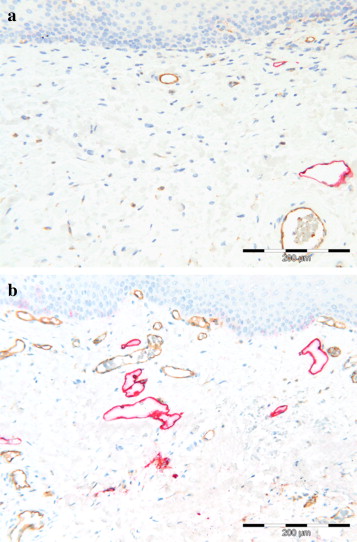 Fig. 3

You're Reading a Preview
Become a DentistryKey membership for Full access and enjoy Unlimited articles
If you are a member. Log in here