American Journal of Orthodontics and Dentofacial Orthopedics, 2022-05-01, Volume 161, Issue 5, Pages 727-738, Copyright © 2021 American Association of Orthodontists
Esthetics is one of the most important considerations in developing an orthodontic-orthognathic treatment plan. For patients with a Class III skeletal pattern, this multidisciplinary treatment option is designed to achieve adequate skeletal and functional enhancements and a harmonious esthetic outcome. This case report describes the orthodontic-orthognathic treatment of a 25-year-old female with skeletal Class III malocclusion, maxillary retrognathism, and anterior crossbite. The surgical plan included a maxillary LeFort I osteotomy and a mandibular bilateral sagittal split osteotomy. The double-jaw surgery combined with the orthodontic treatment improved her skeletal jaw relationship and occlusal function and resulted in excellent proportional facial esthetics.
Highlights
This paper describes the decision analysis for single vs 2 jaw surgery.

Two-dimensional surgical visual treatment objective planning are described.

This paper describes three-dimensional virtual surgery planning of the patient.

This paper details the esthetic management at the end of orthodontic treatment.

Twenty-month stability results are shown for the patient.
Skeletal Class III malocclusion is a sagittal discrepancy in the jaw relationship, resulting from mandibular prognathism, maxillary retrognathism, or both. Studies have shown that maxillary hypoplasia is often the main etiology behind the skeletal Class III malocclusion. In addition, these patients often present with crowding, crossbites, and poor smile esthetics. Consequently, a significant number of skeletal Class III patients require coordinated orthodontic and surgical approaches to achieve successful and esthetic treatment outcomes. The orthognathic surgery for patients with Class III malocclusion may be accomplished by single or 2-jaw osteotomies.
Esthetics is one of the most important considerations in planning an orthodontic-orthognathic treatment. In patients with skeletal malocclusions, including patients with skeletal Class III malocclusion, the surgical option should be planned to achieve a harmonious esthetic outcome in addition to adequate skeletal and functional improvements. The introduction of the rigid fixation in the 2-jaw surgery of maxillary advancement concurrent with mandibular setback has shown acceptable stability with great facial esthetic outcomes. Since the late 1990s, to maximize the esthetic results and reduce surgical relapse in skeletal Class III patients, surgeons have been using 2-jaw osteotomies more frequently than single-jaw surgeries. ,
Nowadays, in the presence of 3-dimensional imaging, virtual surgical planning (VSP) and computer-aided design and manufacturing software, orthodontists, surgeons, and bioengineers can precisely plan orthognathic surgery with predictable skeletal and soft-tissue outcomes. Moreover, using these innovations during treatment planning will reduce the surgery time and optimize esthetic anticipation. Furthermore, these technological advancements will improve patient education and enhance their overall satisfaction.
This case report describes a successful orthodontic-orthognathic approach to treating a patient with skeletal Class III malocclusion. The 2-jaw surgical method presented here includes maxillary advancement and mandibular setback. This, combined with the orthodontic treatment, improved the patient's skeletal jaw relationship and occlusal function and improved proportional facial esthetics.
Diagnosis and etiology
A 25-year-old white female presented to the orthodontic clinic at the University of Alabama at Birmingham School of Dentistry with a chief complaint of not liking her smile and crooked teeth. She had heard the terminology of mandibular prognathism and anterior crossbite from a friend who had undergone orthognathic surgery. The patient was in good health with an unremarkable medical and dental history. She reported no trauma and had no signs or symptoms of temporomandibular joint dysfunctions. The patient had a concave profile, a retruded maxilla, a slightly prognathic mandible, and normal vertical facial proportions ( Fig 1 ). She had a flat occlusal plane with an edge-to-edge incisor relationship. Her smile followed a nonconsonant arc with a reverse curve and excessive mandibular incisor show. The smile esthetics were further compromised by inadequate exposure of maxillary lateral incisors (resulting in a reduced clinical crown appearance), which averaged an excess of 5 mm gingival display. Her mandibular dental midline was 1 mm to the left of the facial midline. The intraoral examination also revealed dental constriction of the maxillary arch with 8 mm of crowding and bilateral Class I molar and Class III subdivision right (3 mm) canine relationships. She had an anterior crossbite on the maxillary lateral and bilateral posterior crossbites involving the maxillary first premolars but no functional shift ( Fig 2 ).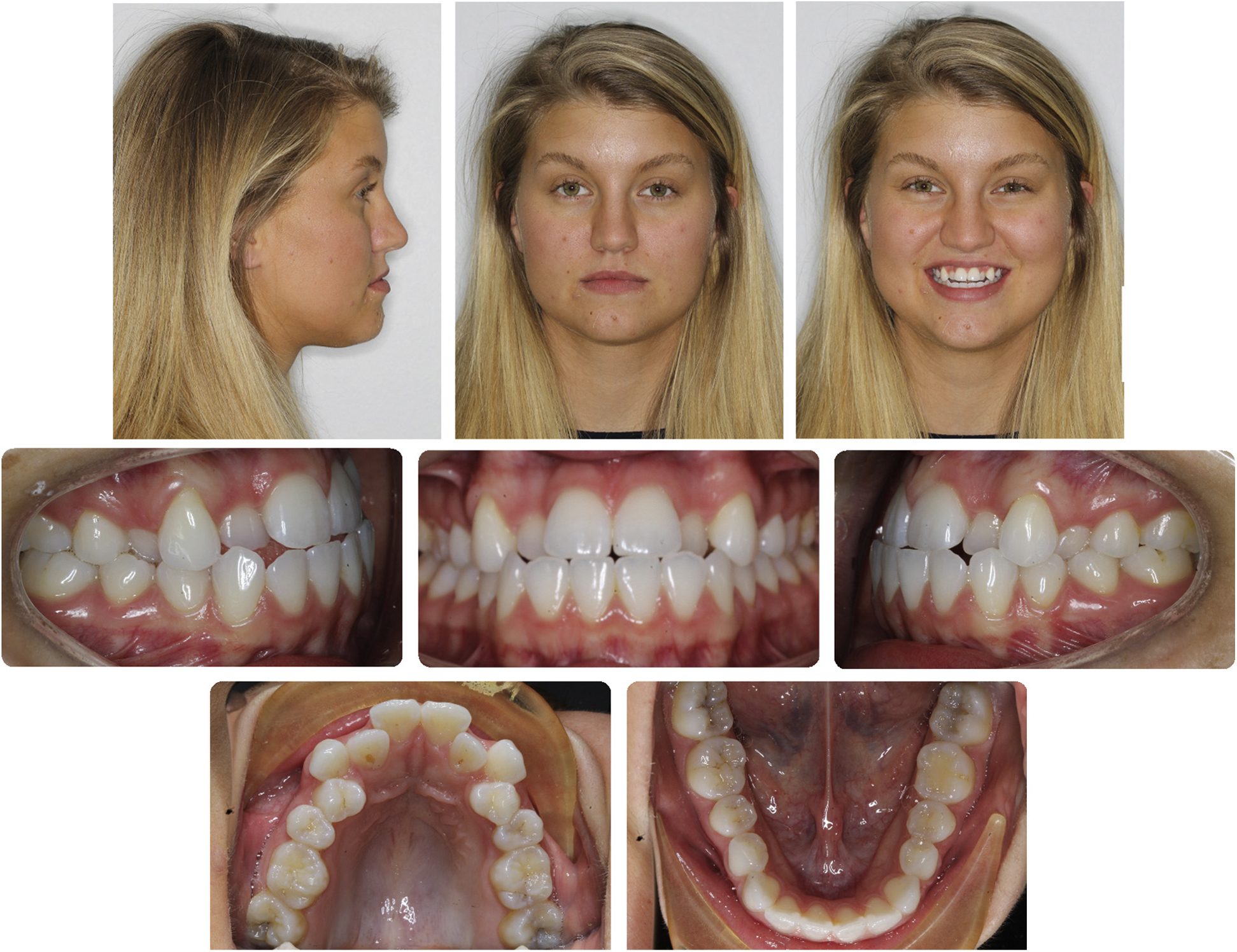 Fig 1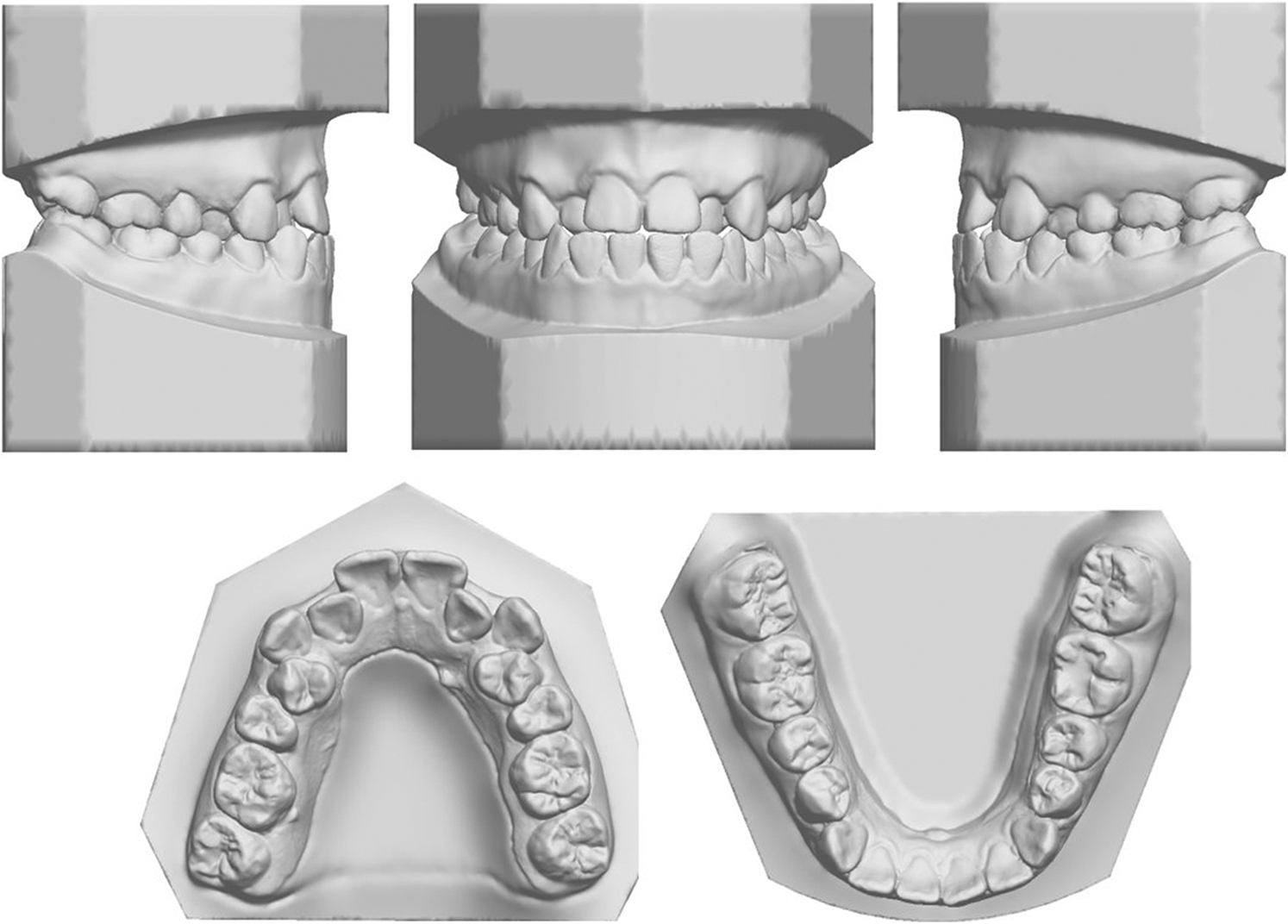 Fig 2

The panoramic radiographic evaluation revealed impacted third molars with no other pathology ( Fig 3 ). The lateral cephalometric radiograph confirmed the anteroposterior skeletal discrepancy and revealed a Class III relationship with SNA, SNB, and ANB angles of 78.2°, 83.1°, and −4.8°, respectively ( Fig 3 ). The maxillary incisors displayed dentoalveolar protrusion (SN-U1, 116.5°; U1-NA, 10.2 mm), whereas mandibular incisors were retroclined (L1-Mp, 88.5°).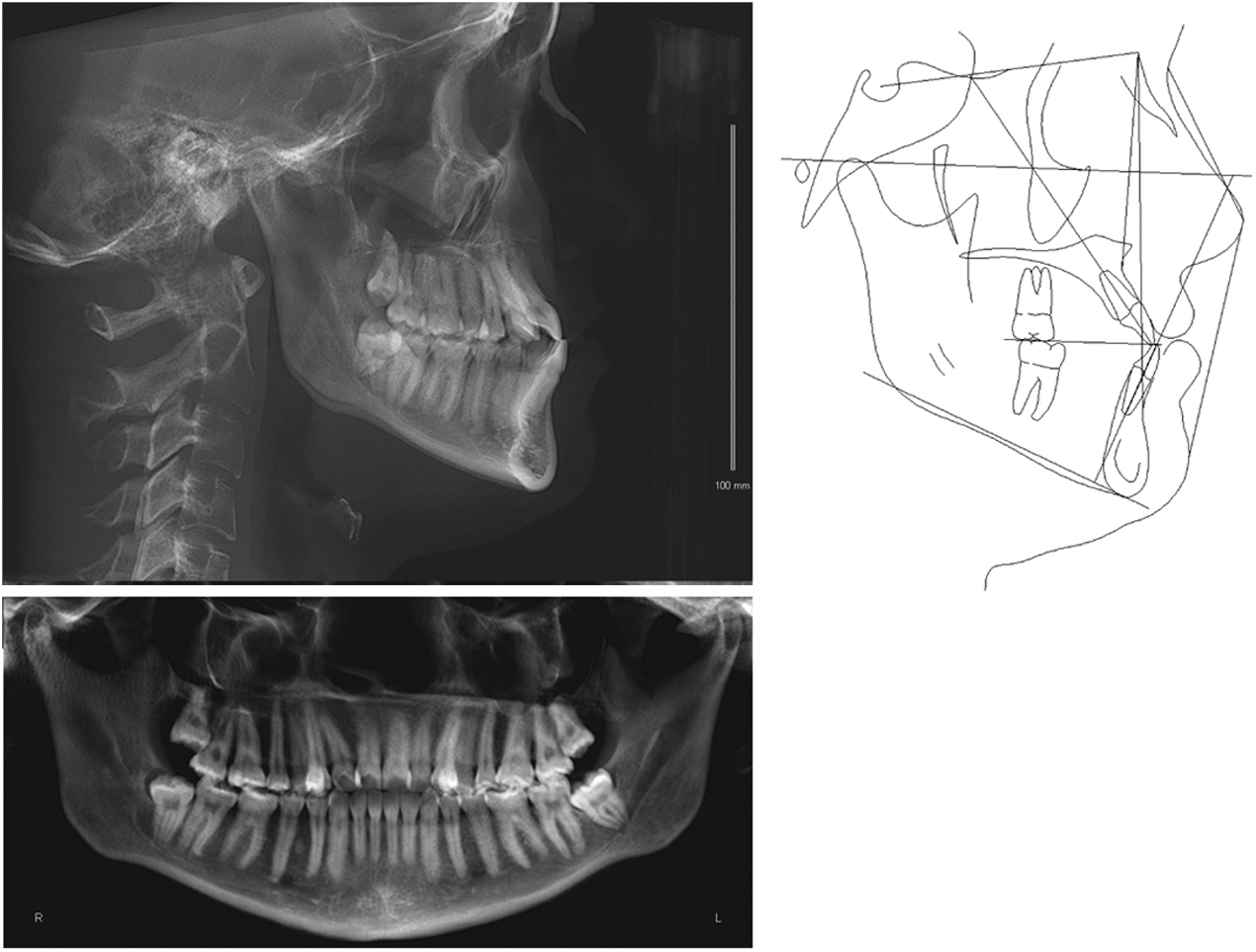 Fig 3

Treatment objectives
The following treatment objectives were planned: (1) normalize jaw relationship; (2) eliminate crossbite and coordinate dental arch widths; (3) achieve positive overjet and overbite and cusp to fossa molar relationship for occlusal function and esthetic; (4) relieve dental compensation and align the teeth over their basal bone; (5) change the occlusal plane pitch to achieve an ideal smile zone; and (6) optimize the facial profile esthetic.
Treatment alternatives
Two treatment alternatives were considered and presented to the patient. The first option involved single-jaw surgery, LeFort I osteotomy, to advance the maxilla. The second one was presented for double-jaw surgery, combining LeFort I osteotomy with bilateral sagittal spilt osteotomy. Both options included extraction of the maxillary first premolars to alleviate crowding and reduce maxillary incisor proclination. The advantages of the first option are reduced cost, with less surgical trauma and less postoperative soft-tissue healing time. Nevertheless, the single-jaw surgery would not be addressing even the minor mandibular prognathism. Thus it would be difficult to follow this treatment plan to achieve the best esthetic profile for this patient. Using Dolphin (Dolphin Imaging and Management Solutions, Chatsworth, Calif) visual treatment objective prediction software, the visual treatment objective for both options was performed to observe the postsurgical soft-tissue alteration that could happen after surgery and used in the decision-making process for the patient ( Fig 4 ). Although the predictions were similar, the double-jaw surgery also allows manipulation of the occlusal plane, thus achieving stable occlusion and maximizing facial esthetics after surgery. , The 2-jaw surgery, in this case, would not only allow us to correct maxillary retrusion but also maintain pitch while softening the mandibular projection. This will prevent a significant increase in the gingival display, which can occur with a clockwise rotation of the occlusal plane. For this patient, this means limiting the amount of gingivectomy or crown lengthening needed at the end of treatment. The treating orthodontist (C.H.K) is also of the opinion that single-jaw surgeries in patients with Class III malocclusion restricts the clinician's flexibility in achieving the best outcome. For example, the prominence of the mandible may still be evident, or the maxillary position may be dictated by the midline of the mandibular base. All of these factors could affect the final smile esthetics of the patient.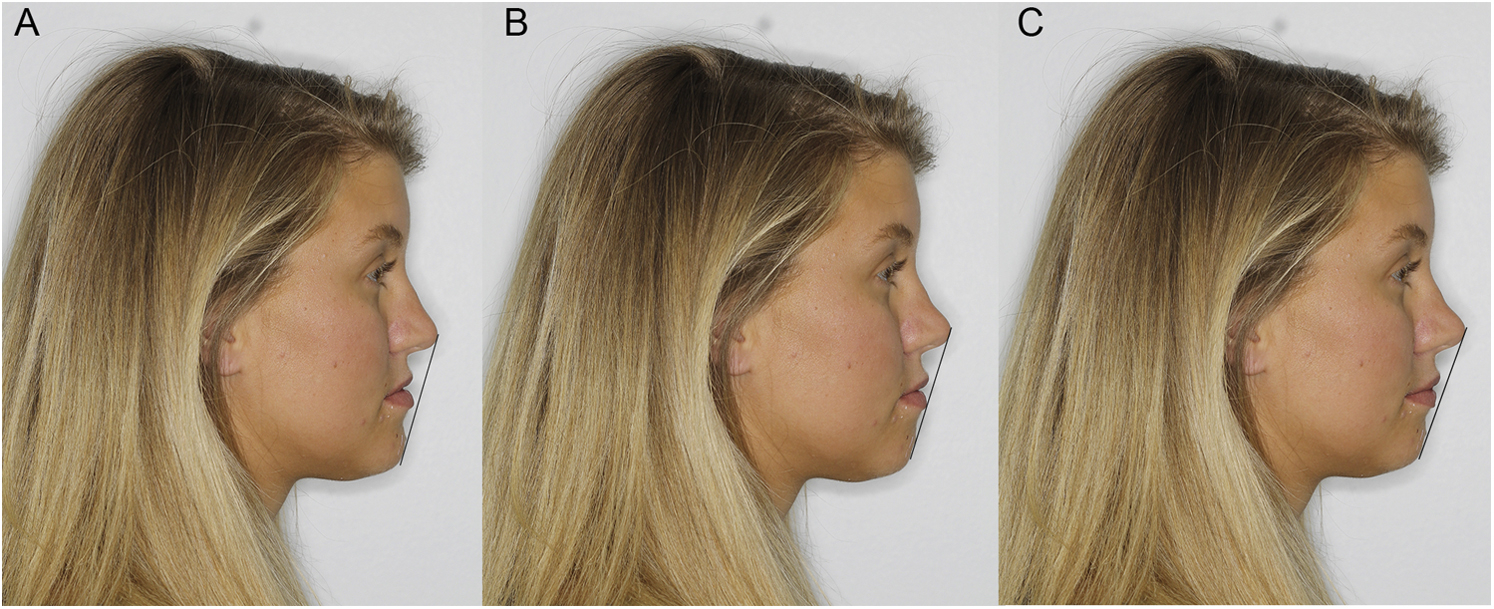 Fig 4

Treatment progress
After careful consideration and discussion of treatment alternatives with the patient, a double-jaw surgery approach was selected in combination with comprehensive orthodontic treatment. Maxillary first premolars were extracted, and to meet the patient's esthetics desires, the orthodontist (C.H.K) used clear self-ligating 0.022-in slot edgewise appliances (Empower Clear; American Orthodontics, Sheboygan, Wis) in both presurgical and postsurgical orthodontics. After a year of presurgical orthodontic leveling, decompensation, and closing extraction spaces with sliding mechanics, the patient was referred to a private oral surgeon (J.H). However, because of issues with the patient's medical insurance, surgery was delayed for another 10 months ( Figs 5 and 6 ). At that time, surgical hooks were placed on both maxillary and mandibular 0.018 × 0.025-in stainless-steel wires.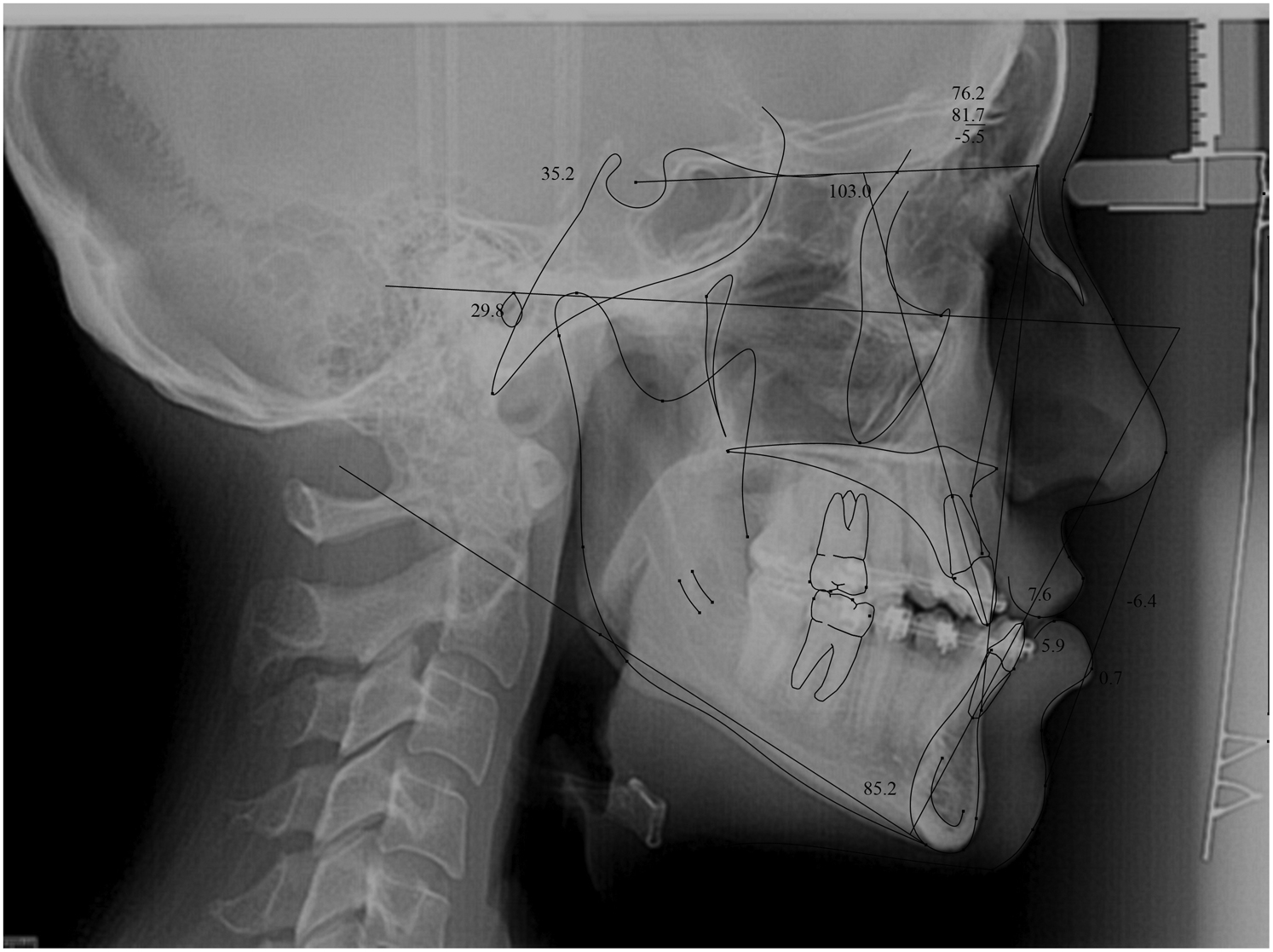 Fig 5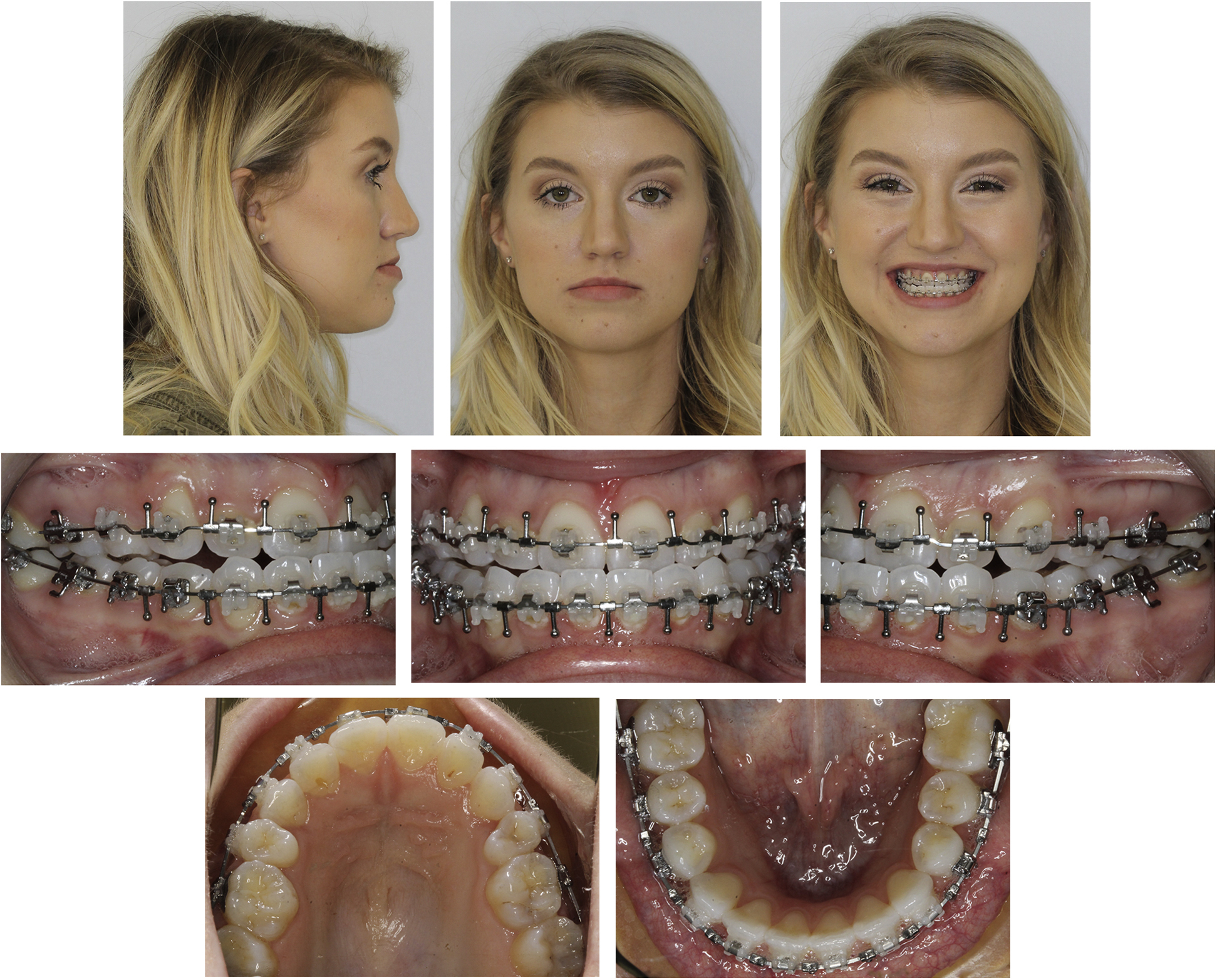 Fig 6

Two weeks before surgery, the VSP workflow for LeFort I and bilateral sagittal split osteotomy were done using Medical Modeling (Medical Modeling/3D Systems, Golden, Colo). Intercommunication between the oral surgeon/orthodontist and the bioengineer achieved through web teleconference was critical to virtually plan the surgical procedure. The 2-jaw stimulated VSP allowed for precise simulation of the surgical procedure. It also predicted a more esthetically pleasing result in correcting the maxillary retrognathia and the slight mandible prognathism ( Fig 7 ).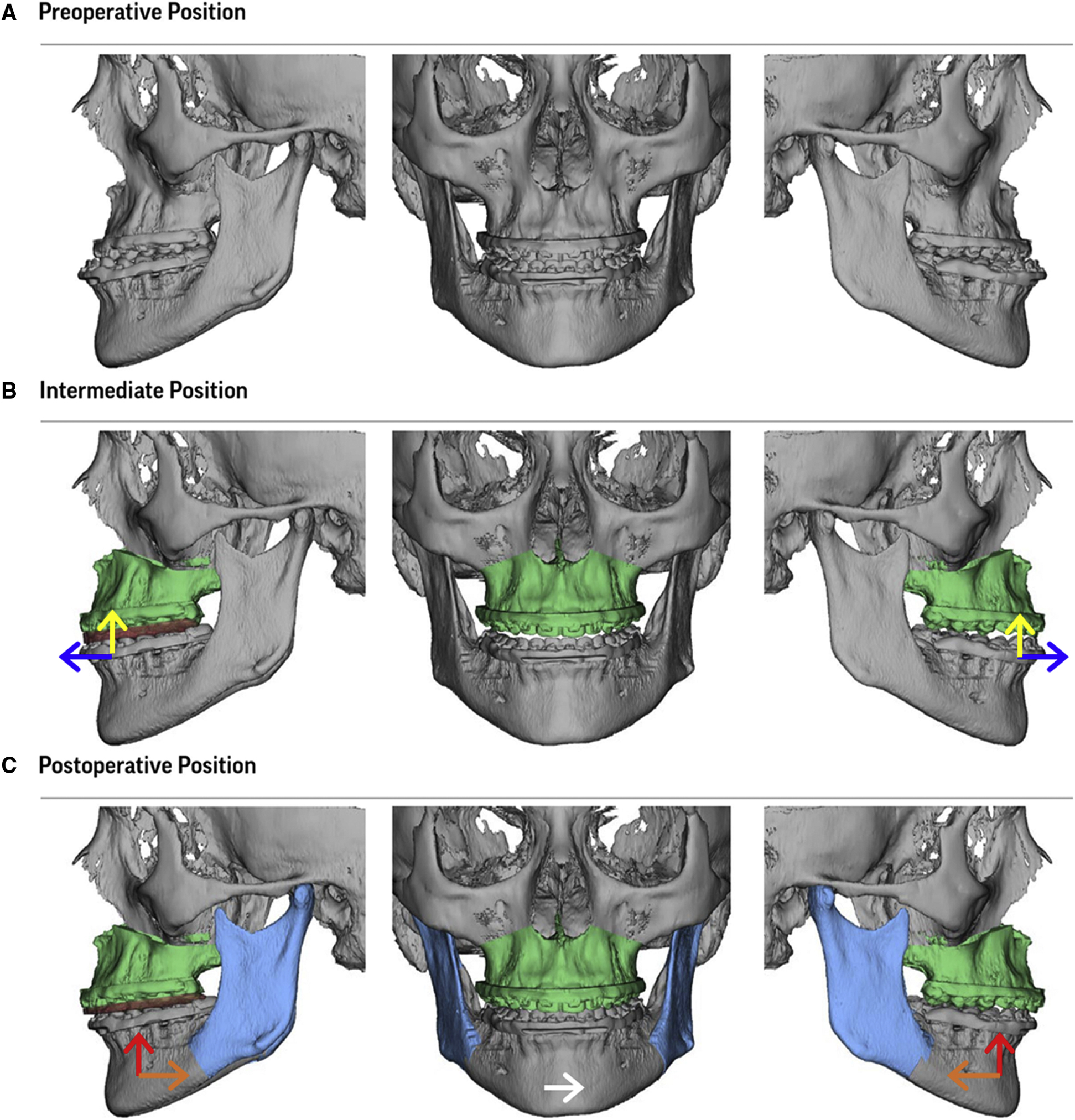 Fig 7

Based on the VSP workflow, maxilla advancement of 5 mm and its 1 mm impaction (anterior and posterior) was performed first via LeFort I osteotomy. An intermediate custom surgical splint was designed from the intermediate position on the VSP workflow. The splint was fabricated in epoxy and acrylic photopolymers via 3-dimensional printing and was used during the surgery to guide the maxilla. Once the maxilla was stabilized with rigid fixation, a final custom splint was used to guide the mandible. To correct the slightly prognathic mandible, the bilateral sagittal split osteotomy surgery followed the VSP plan of 3.3 mm mandible setback with 0.37 mm movement to the left. Pogonion also moved up by 1.16 mm. The mandible was fixated using lag screws, and the patient's extubation was accomplished without any complications. Four weeks after the surgery, the postoperative orthodontic phase was initiated. This consisted of the coordination of arches with finishing details and included light elastics to improve interdigitation ( Fig 8 ). Eight months after the surgery, appliances were removed, and the patient received removable Essix retainers ( Figs 9-11 ). Instructions were given on their use to prevent relapse after the successful orthodontic treatment. Gingivectomy was recommended in this case because there was some excess soft tissue after the palatally erupted lateral incisors were orthodontically moved to the correct position. This created an uneven gingival contour on smiling. The evaluation before the gingival procedure involved careful periodontal probing in establishing that the endpoint of the tissue removal did not invade the biological width. Five months after appliance removal, the treating orthodontist (C.H.K) performed the gingivectomy with a soft-tissue diode laser (NV PRO3 Microlaser; Den-Mat Holdings, LLC, Lompoc, Calif) under topical anesthetic on the maxillary lateral incisors ( Fig 12 ).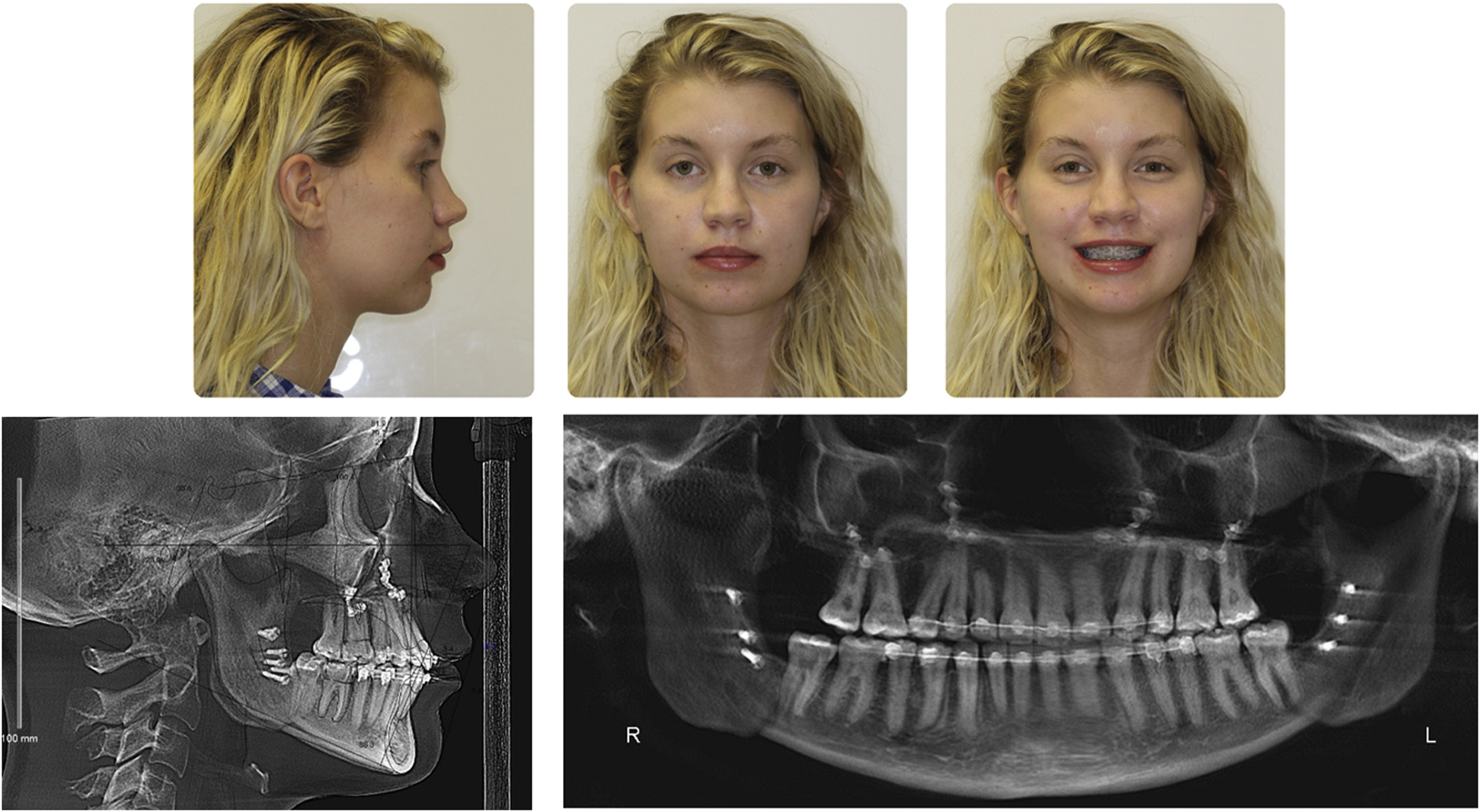 Fig 8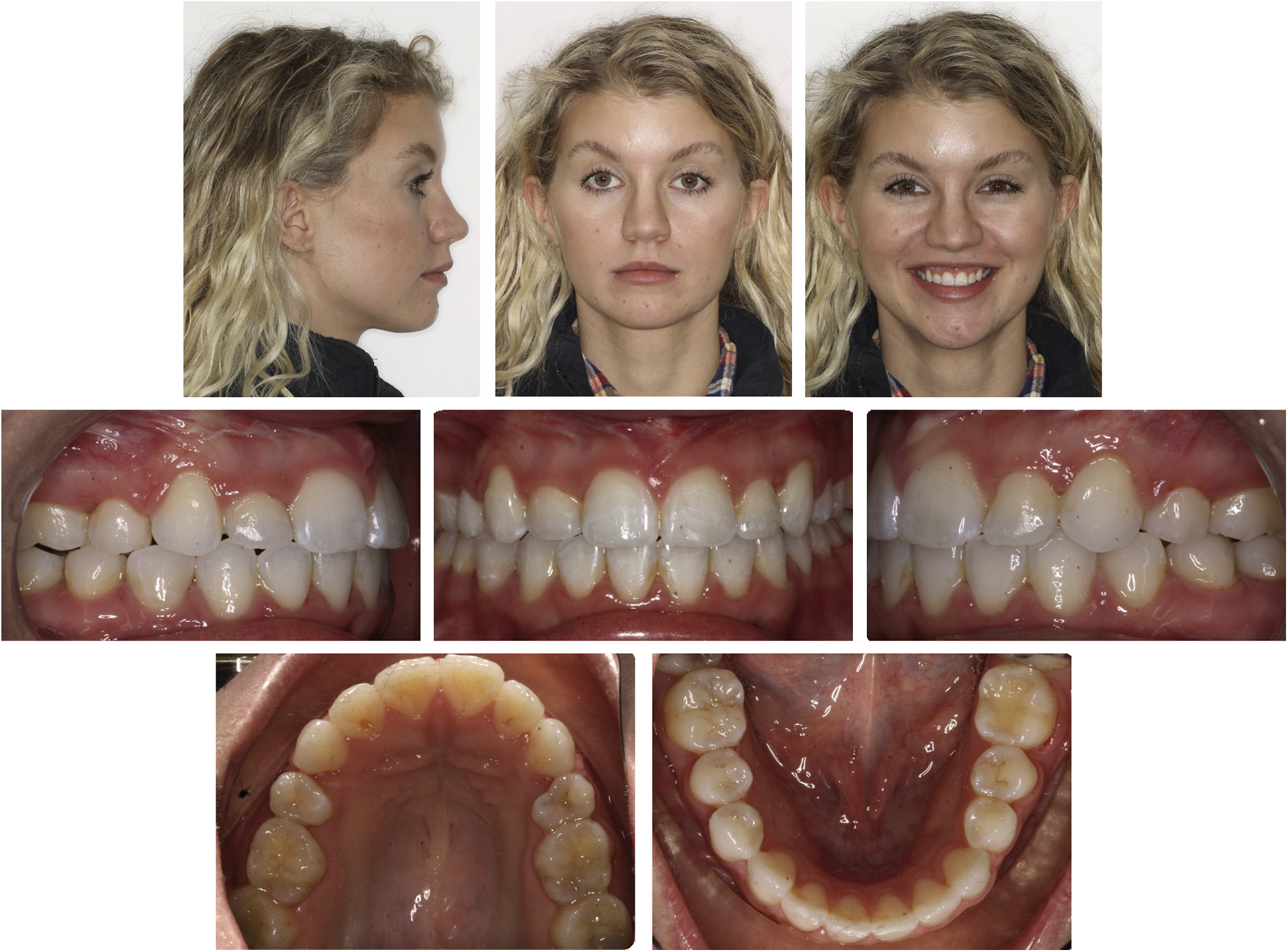 Fig 9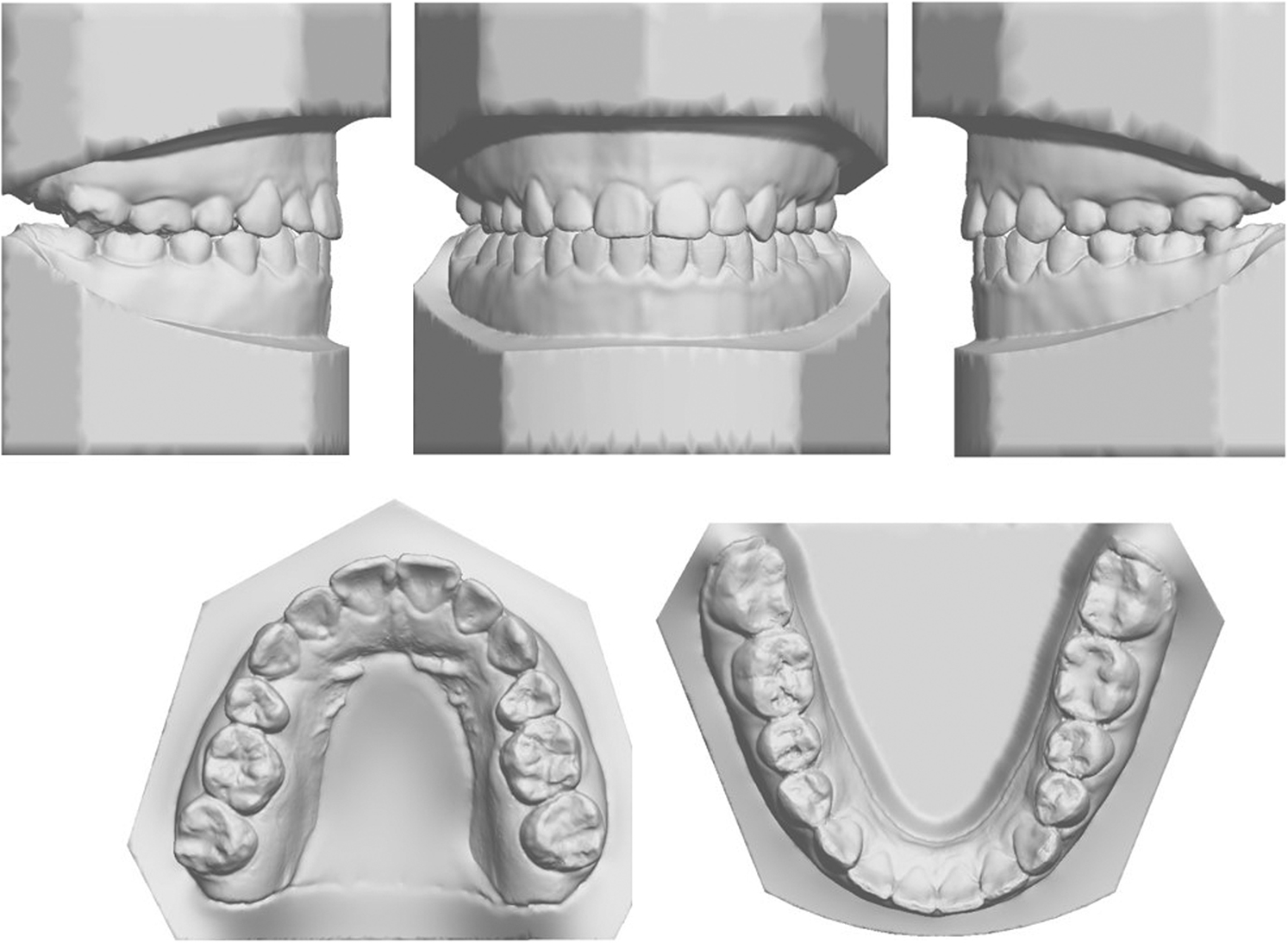 Fig 10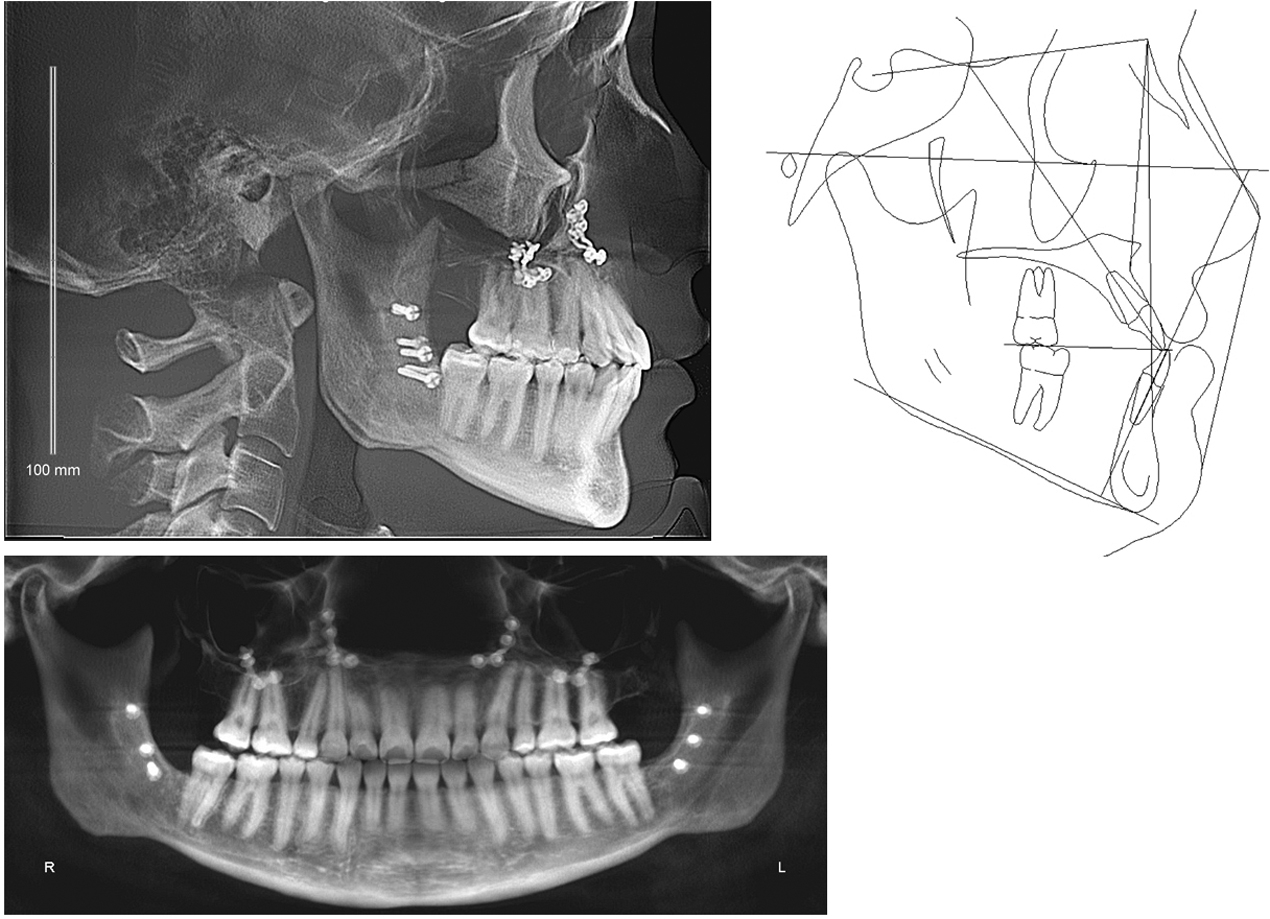 Fig 11


Fig 12

Treatment results
Significant improvements were observed in the facial esthetic, and the treatment resulted in an orthognathic profile ( Fig 9 ). Although settling of second molars was not completed, the dental arches were nicely aligned and well-coordinated with Class II molar and Class I canine relationships ( Figs 9 and 10 ). All crossbites were corrected and, even though the bite was shallow at the maxillary right lateral incisor, anterior coupling was obtained. Improvements in the patient's smile were evident and resulted in a consonant arc with harmonious gingival contour.
Cephalometric analysis ( Fig 11 ) showed that a Class I skeletal relationship was obtained with a slight decrease in FMA ( Table ). The maxillary incisor was uprighted, and the upper lip was protruded. The mandibular incisors were proclined with little change to the lower lip. The superimposition of initial and final lateral cephalograms confirmed the maxillary advancement and impaction as well as the mandibular setback ( Fig 13 ). It also showed the improved lip projection and soft-tissue profile.
Table
| Measurements | Pretreatment | Presurgery | Postsurgery | Posttreatment |
| --- | --- | --- | --- | --- |
| SNA, ° | 78.2 | 76.2 | 81.9 | 81.9 |
| SNB, ° | 83.1 | 81.7 | 79.7 | 79.7 |
| ANB, ° | −4.8 | −5.5 | 2.2 | 2.2 |
| Mp-SN, ° | 33.4 | 35.2 | 30.9 | 30.9 |
| FMA, FH-MP, ° | 23.7 | 29.8 | 21.2 | 21.2 |
| SN-U1, ° | 116.5 | 103.0 | 100.4 | 104.9 |
| U1-NA, mm | 10.2 | 7.6 | 3.5 | 4.1 |
| L1-Mp, ° | 88.5 | 85.2 | 91.0 | 92.5 |
| L1-NB, mm | 4.5 | 5.9 | 4.0 | 5.0 |
| Upper lip to E-line, mm | −8.2 | −6.4 | −1.2 | −0.7 |
| Lower lip to E-line, mm | −2.6 | 0.7 | −1.4 | −1.3 |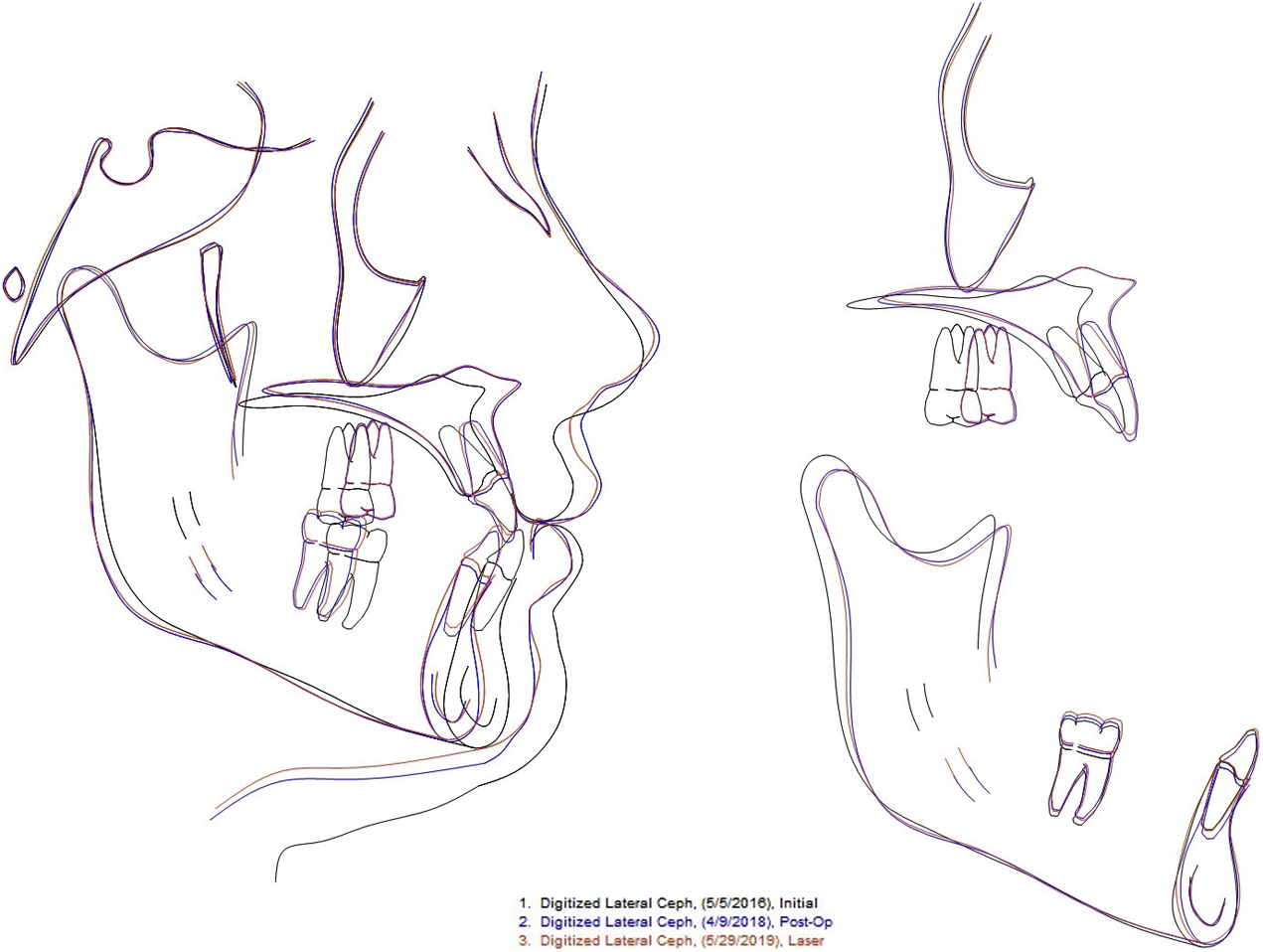 Fig 13

At the 20-month follow-up visit, the patient remained satisfied with treatment results. She continued to be compliant with retainer wear and showed no relapse ( Fig 14 ).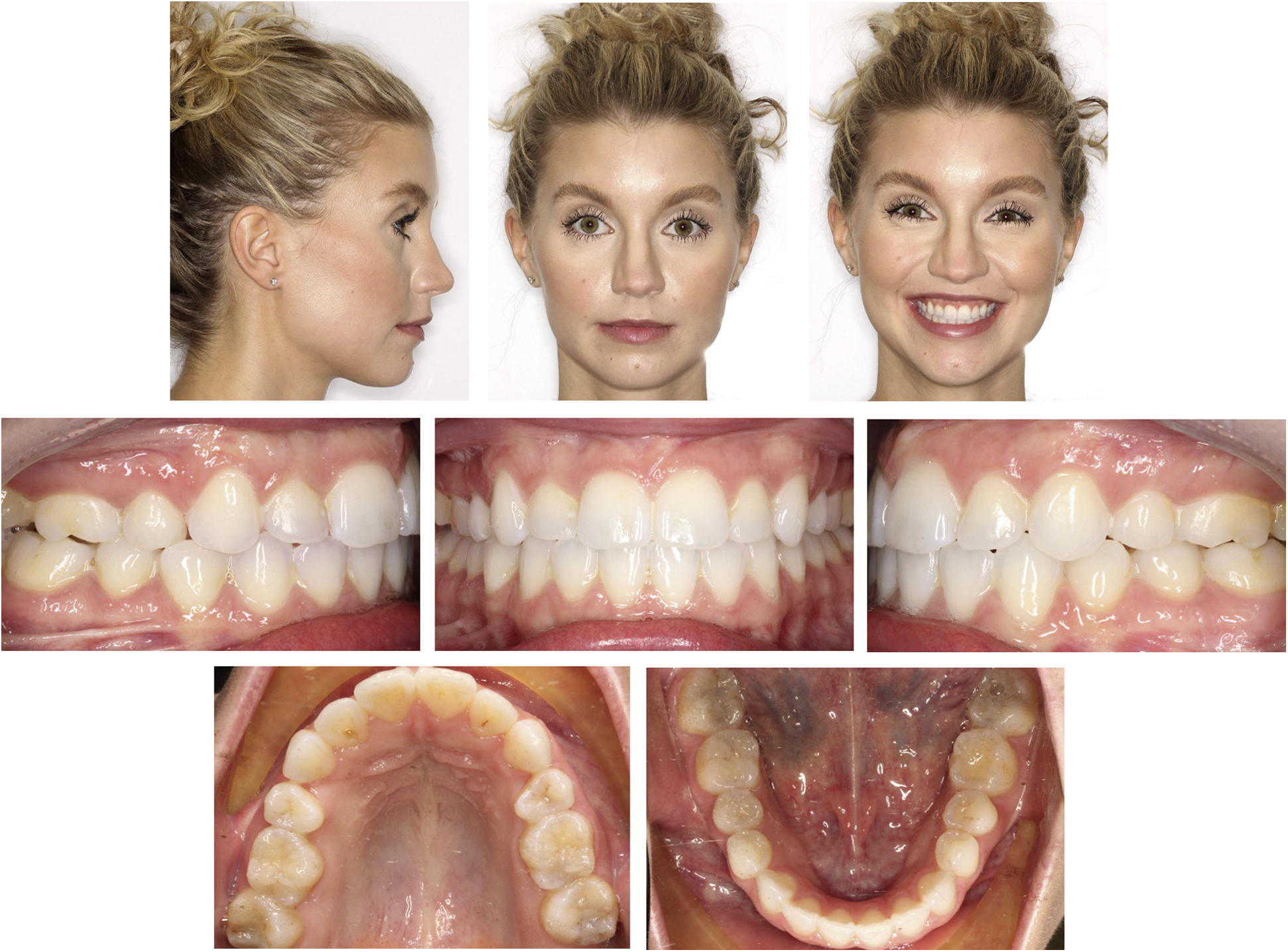 Fig 14

You're Reading a Preview
Become a DentistryKey membership for Full access and enjoy Unlimited articles
If you are a member. Log in here