American Journal of Orthodontics and Dentofacial Orthopedics, 2021-07-01, Volume 160, Issue 1, Pages 4-6, Copyright © 2021
We read with interest the article by Dr Rany Bous et al (Bous RM, Kochenour N, Valiathan M. A novel method for fabricating nasoalveolar molding appliances for infants with cleft lip and palate using 3-dimensional workflow and clear aligners. Am J Orthod Dentofacial Orthop 2020;158:452-8) dealing with the novel approach of using nasoalveolar molding (NAM) custom aligners for infants with cleft lip and palate (CLP), which was published in addition to several other articles recently published on the topic.
We would like to appreciate the aspect of 3-dimensional (3D) planning for providing NAM therapy by using Ortho Insight 3D software (MotionView Software, Chattanooga, Tenn), by which the alveolar segments are digitally segmented and moved to the desired final position. Subsequently, the staged models are 3D printed using a fused filament fabrication printer, and the vacuform machine is used to fabricate an 0.040-in aligner for each stage. As the authors claimed, these may provide similar benefits to the traditional NAM appliance while reducing the burden of care by reducing the number of visits and appointment duration, both of which are considered fundamental limitations of the clinical use of the NAM technique in patients with CLP.
However, the suggested method is still multistage and, as described, may include some manual adjustments by the operator. Therefore, routine clinical use may lead to inherent inaccuracies and misfitting of the thermoplastic NAM plate and the nose piece. We suggest improving the accuracy of the method and improving infant safety by eliminating the preliminary stage of treatment. This approach includes traditional impression of silicone putty material in a hospital setting and the scanning of the obtained stone model. Because digital impressions are not subjected to material distortion and shrinkage, they are considered more accurate and have greater reproducibility than conventional impressions. Therefore, capturing a digital intraoral scan of the infant may allow us to further proceed into the mission of a fully digitized process of NAM therapy.
In the Department of Orthodontics and Craniofacial Anomalies at the Rambam Health Care Campus, Haifa, Israel, intraoral preliminary capturing and routine follow-up data collection of neonates with CLP are performed by using intraoral scanning (iTero Element scanner; Align Technologies, San Jose, Calif) ( Figs 1 and 2 ). With the vast use of intraoral scanners in the dental practice and the increased experience of health care providers with the scanning procedure and the recommended steps, the intraoral scanning of an infant is a doable challenge. Intraoral digital impression capturing is performed on the first appointment as part of record collection. The infant is held in a supine position by a parent lying on a standard dental chair. The scanning process is similar to that of the children, teen, or adult scanning technique.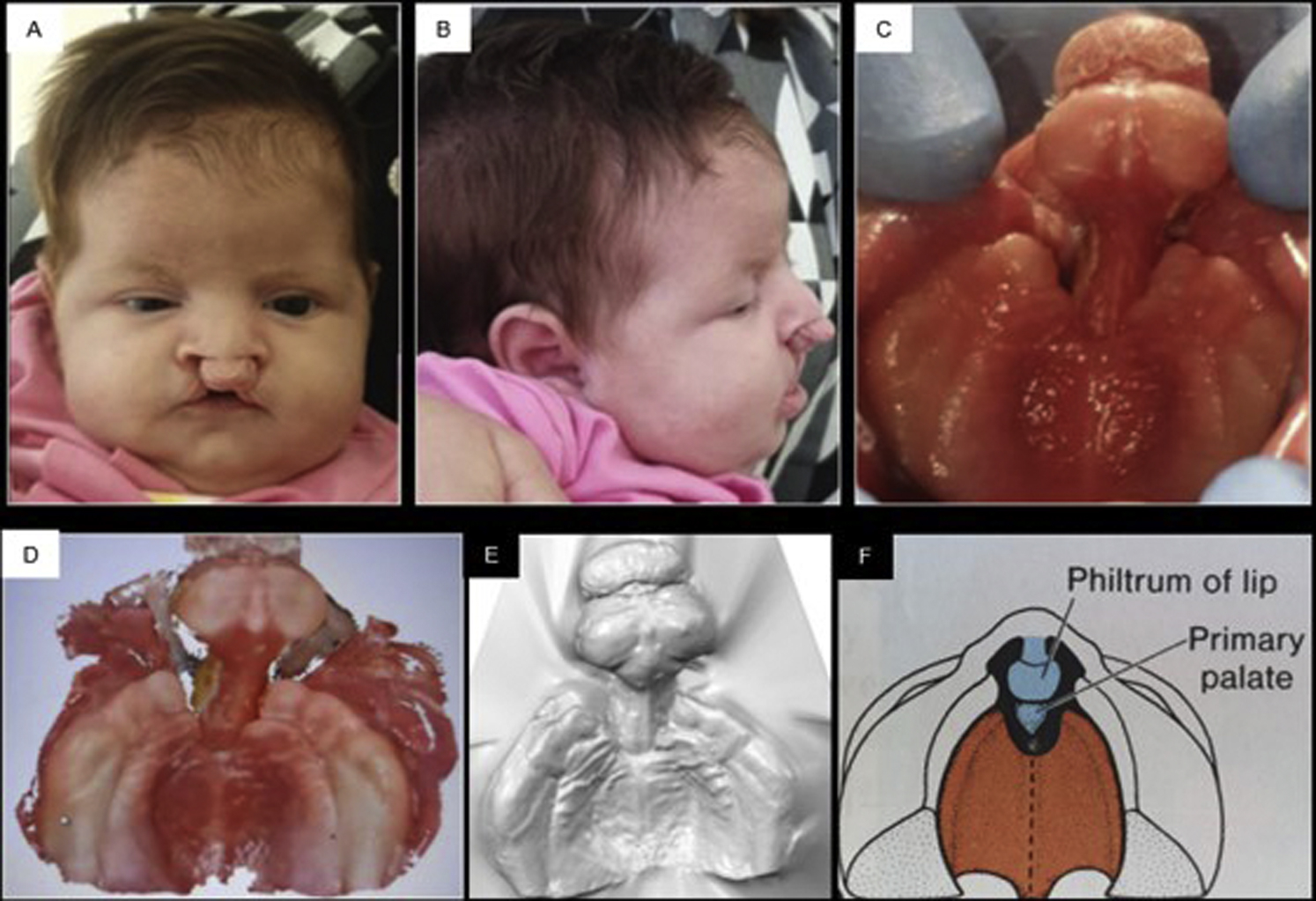 Fig 1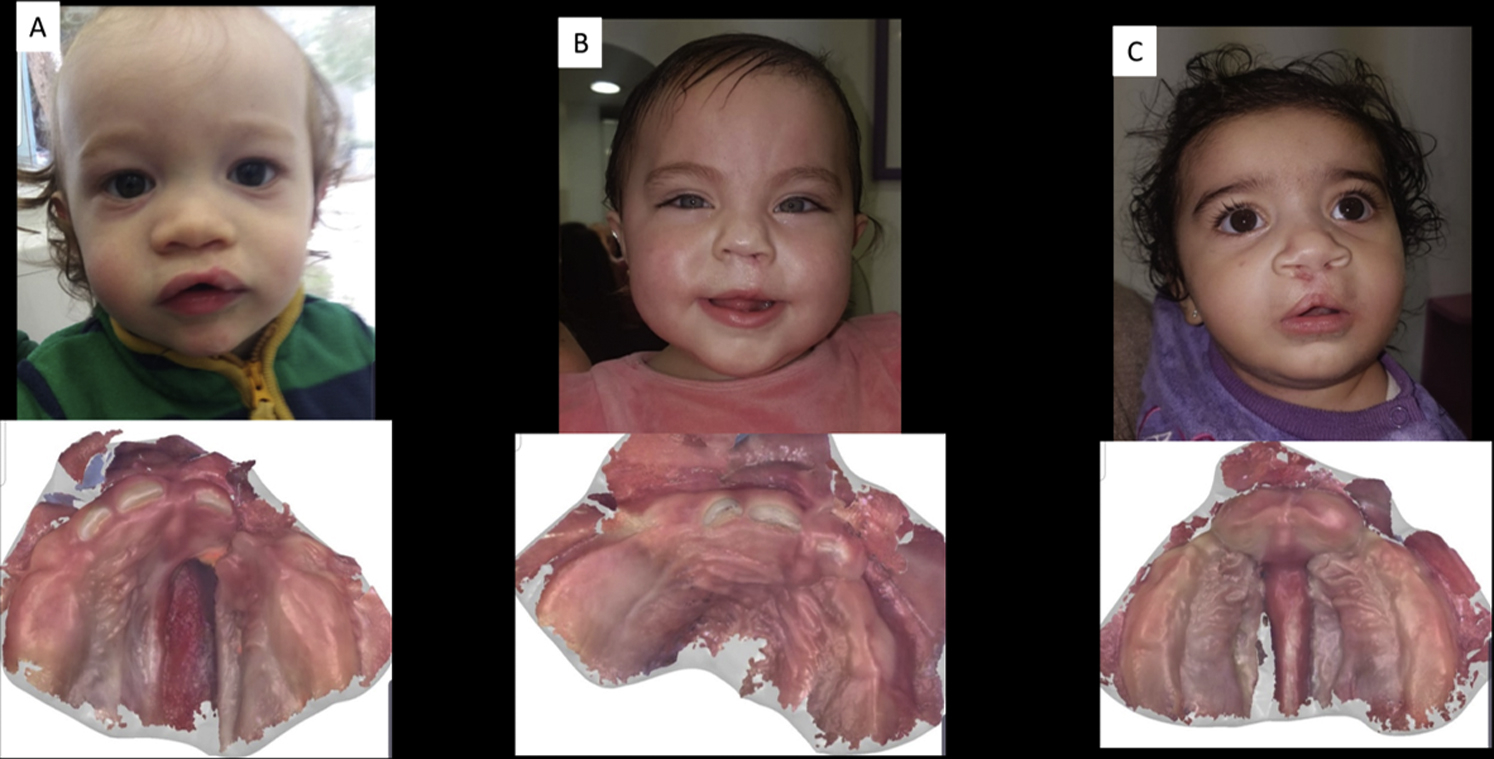 Fig 2
Although the intraoral scanner sensor is large and it is primarily designed for use in older patients with normal anatomy and fully erupted teeth, its large camera frame rapidly covers a large intraoral surface area throughout infant scanning workflow. Despite its large dimensions and the challenge to be managed intraorally in infants, the complete maxillary arch systematically scanning from one tuberosity to the other, including the entire cleft palate surface, could be obtained within 2 minutes. The iTero Element is engineered to capture 6,000 frames per second. In this way, it reduces the influence of movement between the scanning probe and the oral structures during the infant's restless capturing process. It automatically stitches together intraoral scanned images of the CLP infant for rendering in the correct order, adapts to changes in positioning, and detects and removes unwanted soft tissue capturing during the clinical workflow. By analyzing many images of the cleft surface topography, the system can rapidly create a final digital 3D model to reflect the configuration of the cleft area and dental arch anatomy.
Capturing a digital intraoral scan for a neonate with CLP can be done even today before smaller sensors and suitable software are provided. The use of a digital impression system simplifies the oral impression procedures, saves more time, minimizes the potential associated risks, and eliminates the need to capture the data in a hospital setting. The advent of digital dental technologies and accurate digital impressions for infants with CLP could be employed in the diagnostic workup, treatment planning, and even fabrication of oral appliances and NAM to manage children with CLP.
References
1.

Ritschl L.M., Rau A., Güll F.D., diBora B., Wolff K.D., Schönberger M., et. al.: Pitfalls and solutions in virtual design of nasoalveolar molding plates by using CAD/CAM technology–a preliminary clinical study. J Craniomaxillofac Surg 2016; 44: pp. 453-459.

2.

Loeffelbein D.J., Ritschl L.M., Rau A., Wolff K.D., Barbarino M., Pfeifer S., et. al.: Analysis of computer-aided techniques for virtual planning in nasoalveolar moulding. Br J Oral Maxillofac Surg 2015; 53: pp. 455-460.

3.

Grill F.D., Ritschl L.M., Dikel H., Rau A., Roth M., Eblenkamp M., et. al.: Facilitating CAD/CAM nasoalveolar molding therapy with a novel click-in system for nasal stents ensuring a quick and user-friendly chairside nasal stent exchange. Sci Rep 2018; 8: pp. 12084.

4.

Grill F.D., Ritschl L.M., Bauer F.X., Rau A., Gau D., Roth M., et. al.: A semi-automated virtual workflow solution for the design and production of intraoral molding plates using additive manufacturing: the first clinical results of a pilot-study. Sci Rep 2018; 8: pp. 11845.

5.

Shen C., Yao C.A., Magee W., Chai G., Zhang Y.: Presurgical nasoalveolar molding for cleft lip and palate: the application of digitally designed molds. Plast Reconstr Surg 2015; 135: pp. 1007e-1015e.

6.

Zheng J., He H., Kuang W., Yuan W.: Presurgical nasoalveolar molding with 3D printing for a patient with unilateral cleft lip, alveolus, and palate. Am J Orthod Dentofacial Orthop 2019; 156: pp. 412-419.

7.

Ender A., Mehl A.: Full arch scans: conventional versus digital impressions–an in-vitro study. Int J Comput Dent 2011; 14: pp. 11-21. English, German

8.

Güth J.F., Keul C., Stimmelmayr M., Beuer F., Edelhoff D.: Accuracy of digital models obtained by direct and indirect data capturing. Clin Oral Investig 2013; 17: pp. 1201-1208.

9.

Seelbach P., Brueckel C., Wöstmann B.: Accuracy of digital and conventional impression techniques and workflow. Clin Oral Investig 2013; 17: pp. 1759-1764.

10.

Xepapadeas A.B., Weise C., Frank K., Spintzyk S., Poets C.F., Wiechers C., et. al.: Technical note on introducing a digital workflow for newborns with craniofacial anomalies based on intraoral scans – part I: 3D printed and milled palatal stimulation plate for trisomy 21. BMC Oral Health 2020; 20: pp. 20.

11.

Patel J., Winters J., Walters M.: Intraoral digital impression technique for a neonate with bilateral cleft lip and palate. Cleft Palate Craniofac J 2019; 56: pp. 1120-1123.

12.

Dalessandri D., Tonni I., Laffranchi L., Migliorati M., Isola G., Bonetti S., et. al.: Evaluation of a digital protocol for pre-surgical orthopedic treatment of cleft lip and palate in newborn patients: a pilot study. Dent J (Basel) 2019; 7: pp. 111.