American Journal of Orthodontics and Dentofacial Orthopedics, 2007-07-01, Volume 132, Issue 1, Pages 105-115, Copyright © 2007 American Association of Orthodontists
This article describes the orthodontic treatment of a 14.5-year-old girl with severe bidentoalveolar protrusion. Specially designed sandblasted, large-grit, acid-etched (SLA) orthodontic microimplants (C-implants, Cimplant Co, Seoul, Korea) were placed in the alveolar bone in all 4 quadrants to provide anchorage for en-masse retraction without the help of banded or bonded molars. Successful retraction was achieved. The mandibular dentition was detailed by using conventional orthodontic appliances during the finishing stage. The osseointegration potential of these microimplants allows them to resist rotational force moments and control 3-dimensional movements of the anterior teeth during retraction. Facial esthetics improved for the patient, fullness of the upper and lower lips was reduced, and the interdental relationship was corrected. Biomechanical considerations, efficacy, and potential complications of the treatment technique are discussed.
Anchorage is a critical component of en-masse retraction. Clinicians pay considerable attention to Newton's third law—the law of action and reaction. They know that every action they take will have an equal and opposite reaction.
Many approaches to treatment mechanics have been developed to efficiently retract anterior teeth. In tooth-borne anchorage cases, complicated mechanics or supplementary appliances are needed to control anchorage. Extraoral appliances can provide stable anchorage but depend totally on patient cooperation. Lack of cooperation can result in anchorage loss and unsatisfactory treatment results; these have led to greater use of intraosseous anchorage.
It has become more practical to use implants for anchorage in orthodontic patients, thanks in part to smaller and more versatile implant designs. Orthodontic screws expand the horizons of orthodontic treatment because they allow treatment to proceed successfully with virtually no anchorage loss and minimal patient cooperation. However, they are typically used as auxiliaries to the posterior anchor teeth during en-masse retraction with sliding mechanics.
The choice of the appropriate force system is based largely on the anchorage conditions required for a particular treatment goal. The mechanics of force application can be simple or complicated, according to the anchorage control. For anterior retraction, if the mini-implants are designed to accommodate archwires, the number of teeth requiring bands or brackets can be reduced, moderating the risk of damage to the periodontium or enamel surfaces ( Fig 1 ).

Fig 1

We have developed an orthodontic microimplant, C-implant (Cimplant Co, Seoul, Korea), to overcome the limitations of conventional anchorage control. Recently, many instances have been reported of treating anterior protrusion with en-masse retraction with microimplants. However, microimplant-dependent en-masse retraction without bonding or banding of the posterior teeth has not been reported. This case report demonstrates the efficiency and the multiple functions of a new type of microimplant to effectively retract anterior teeth without bracketing on the posterior teeth.
C-implant
The C-implant provides stability primarily through osseointegration and secondarily by mechanical retention ( Fig 2 ). It has 2 components, a titanium head and a screw. The screw is 1.8 mm in diameter and 8.5 mm long, and the entire surface except for the upper 2 mm is sandblasted, large-grit, and acid-etched (SLA) for optimal osseointegration ( Fig 2 ). The head has a 0.032-in diameter hole and is connected to the screw by friction; this provides mechanical retention without cementing. This retention is strong enough to control torque and ensure 3-dimensional tooth movement while osseointegration resists rotational components of force.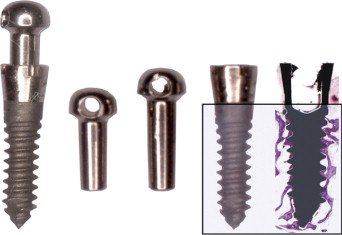 Fig 2

The 2-component design keeps the neck from fracturing during implantation and removal. The long span between the head and the screw body prevents gingival irritation during retraction and makes it possible to apply multi-directional elastics.
Biomechanics of en-masse retraction with C-implant
In sliding mechanics, there is a tendency for extrusion or tipping of the posterior teeth during anterior retraction. Friction on the posterior teeth is produced when a continuous archwire is combined with a mini-implant for anterior retraction. Both anterior and posterior teeth along the continuous archwire can be negatively affected.
Alternatively, the C-implant, when placed on both sides of the posterior maxilla, can be used as a modified segmental approach for en-masse retraction of anterior teeth ( Fig 3 , A ). A utility arch on the 6 anterior teeth can be connected to the implant hole. Friction between the implant and the archwire is negligible, and there are no adverse forces on the posterior teeth during en-masse movement.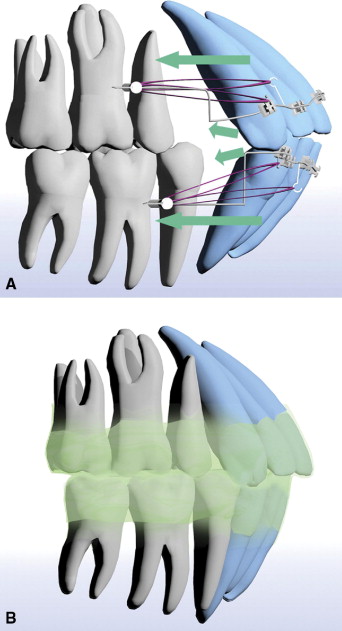 Fig 3

The retention portion of the C-implant is better able to resist the rotational tendency of heavy dynamic loads and to control 3-dimensional tooth movement than coventional miniscrews because of its higher osseointegration potential.
The basic concepts of C-implant en-masse retraction mechanics and conventional fixed orthodontic treatment are similar. However, the C-implant differs from conventional fixed mechanics in that it requires minimal or no molar banding or bonding. It performs en-masse retraction when the leveling begins, with little or no change in the posterior occlusal relationship.
We prefer elastics over coil springs or closing loops as the retraction mechanism because they make oral hygiene easier, offer mild and continuous force application, and do not irritate the gingivae. The force magnitude of elastics is 2.5 to 3.5 oz for an individual tooth and 4.5 oz for en-masse retraction. After en-masse retraction, finishing can be performed with fixed appliances or custom aligners ( Fig 3 , B ).
Diagnosis
A girl, aged 14 years 6 months, had a chief complaint of protruding anterior teeth ( Figs 4-6 ). Her medical history was unremarkable, and temporomandibular joint function was normal.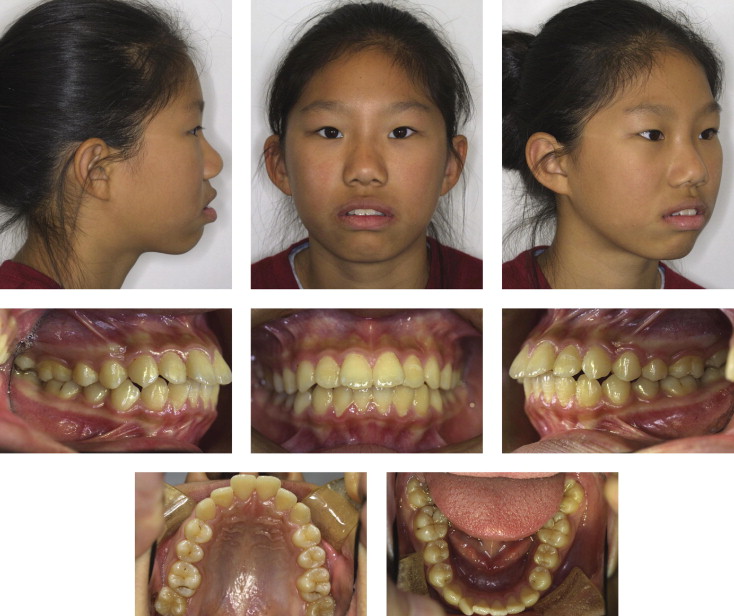 Fig 4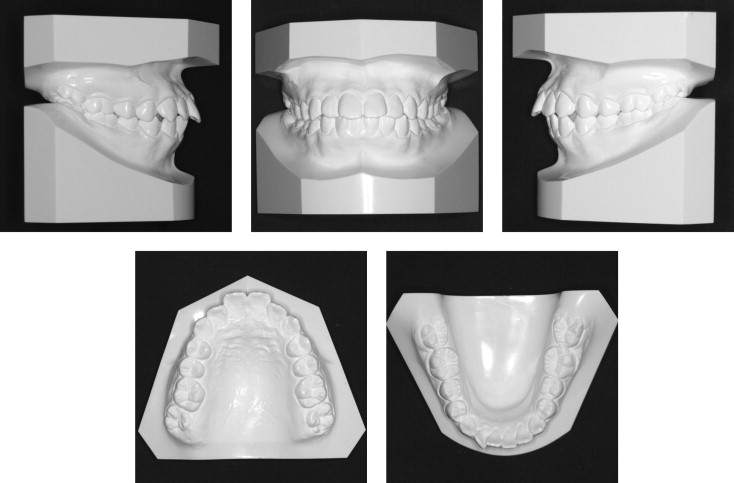 Fig 5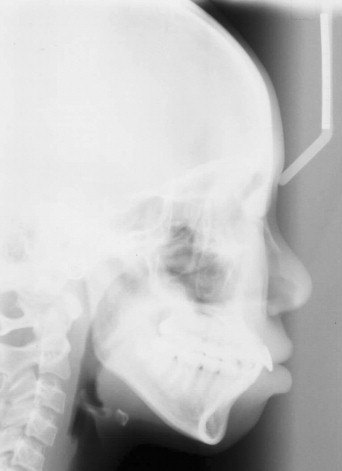 Fig 6

The pretreatment facial photographs showed a convex facial pattern with lack of lip support. The pretreatment intraoral photographs and the study models demonstrated Class I molar and canine relationships on both sides. No teeth were missing, but the right mandibular third molar was tipped mesially.
Cephalometric analysis ( Table ) showed a skeletal Class I relationship (ANB angle, 2°) with a high mandibular plane angle (FMA, 33°); a slightly retrognathic mandible (SNB angle, 75°); protrusive incisors (interincisal angle, 102°); maxillary incisor to NA angle, 42°; maxillary incisor to NA distance, 14 mm; mandibular incisor to NA angle, 34°; and mandibular incisor to NB distance, 11 mm.
Table
Average (female) ⁎
Pretreatment
Posttreatment
SNA angle (°)
81.6
77
77
SNB angle (°)
79.2
75
76
ANB angle (°)
2.4
2
1
PFH/AFH (%)
85.1/127.4
76/124
80/131
(66.8%)
(60.8%)
(61.1%)
SN-OP (°)
17.9
18
20
FH-UI (°)
116.0
127
113
FMA (°)
24.3
33
33
IMPA (°)
95.9
96
84
FMIA (°)
59.8
51
63
UL-E plane (mm)
–0.9
3
−2
LL-E plane (mm)
0.6
8
2
Interincisal angle (°)
123.8
102
131
Mx 1 to NA (mm)
7.3
11.3
8
Mx 1 to NA (°)
25.3
42
26
Mn 1 to NB (mm)
7.9
11
4.5
Mn 1 to NB (°)
28.4
34
22
SN to PP (°)
10.2
5
5
The patient was diagnosed with Class I bidentoalveolar protrusion and mild mandibular anterior crowding. She and her parents requested full retraction of the maxillary and mandibular anterior teeth by using the first premolar extraction spaces. Dental caries were present on the buccal pit areas of both molars.
Treatment objectives
The treatment objectives, based on the cephalometric and dental cast analyses, were to extract all first premolars, retract the anterior teeth, improve the interincisal angle relationship, decrease lip protrusion, achieve a well-intercuspated bilateral Class I canine and molar occlusion, and improve the facial balance. Toward the end of en-masse retraction, conventional fixed appliance would be used for finishing.
Treatment alternatives
The patient's chief concern was the protruding incisors, and her goal was complete retraction of the anterior teeth. A treatment plan involving headgear for maximum anchorage was discussed, but the patient was at puberty and was not enthusiastic about this treatment option. Thus, 2 alternatives, both involving en-masse retraction with mini-implants, were presented: (1) use conventional mini-implants as direct or indirect anchorage to reinforce the bonded or banded posterior anchor teeth during anterior retraction and (2) use C-implants as independent appliances for anterior retraction without the assistance of bonded or banded posterior anchor teeth.
The second treatment plan was selected. This plan would allow maximum retraction of the anterior teeth without affecting the molar occlusal relationship, minimize adverse periodontal effects, and reduce the time with fixed appliances on the posterior teeth. After en-masse retraction, fully retracting the anterior teeth with C-implants, fixed appliances would be used to finish the treatment.
Treatment progress
The maxillary and mandibular first premolars were extracted. Four C-implants (8.5 mm long, 1.8 mm in diameter) were placed in the interseptal bone between the second premolars and the first molars.
The patient received .022-in slot preadjusted brackets on the 6 maxillary and mandibular anterior teeth, followed by a buccally segmented archwire appliance between the anterior teeth and the C-implant hole.
The initial archwire was .016 × .022-in stainless steel with a vertical step. The patient was instructed to use 3/16-in, 3.5 oz elastics between the canines and the extended wire on the C-implant hole. If the anterior teeth had been crowded, we would have retracted the canines before unraveling the incisors. The 4 anterior teeth tend to drift during canine retraction, and canine retraction and dental decrowding without the anterior teeth flaring can be achieved. In this case, there was no anterior crowding, so we could begin en-masse retraction of the 6 anterior teeth by connecting the elastics to soldered brass wire hooks 7 to 9 mm in length.
From the start of comprehensive orthodontic treatment, the patient was instructed to maintain ideal oral hygiene and, especially, not to allow food impaction or inflammation near the implants.
The interincisal angle decreased gradually after 2 months of en-masse retraction, and the extraction space closed while maintaining the posterior occlusal relationship ( Fig 7 ). Quarter-inch, 3.5-oz Class I elastics were used for en-masse retraction, and 5/16-in, 3.5-oz Class III intermaxillary elastics were used between the mandibular soldered hooks and the maxillary C-implants.

Fig 7

At each patient visit, wire portions protruding distal to the implant during en-masse retraction were cut, leaving enough wire to make a toe-in bend to prevent irritation and make it easier to apply intermaxillary elastics and hooks.
Mandibular anterior retraction was conducted for 8 months. However, bodily retraction was not achieved due to the anatomic limitation of the mandible. En-masse retraction with the C-implant was discontinued, and conventional brackets and tubes were bonded on the mandibular posterior teeth ( Fig 8 ). The 2 mandibular implants were removed under topical anesthesia. During retraction of the mandibular dentition, the archwire on the distal end of the maxillary canines was cut. Further retraction was delayed until controlled tipping and retraction occurred in the mandibular dentition.

Fig 8

We discovered that moderate rather than complete anchorage was required for the mandibular dentition, and continued maxillary anterior retraction was possible as a result of overjet caused by mandibular anterior retraction. The remaining mandibular space was closed by using a power chain on a .017 × .025-in stainless steel continuous wire with a gable bend to control torque ( Fig 9 ).

Fig 9

After 17 months of treatment, we finished space consolidation and achieved ideal occlusion ( Fig 10 ). Root parallelism was confirmed on the panoramic radiograph, and the appliances were removed.

Fig 10

After fixed appliance treatment, a tooth positioner was used for a month to detail the occlusion. Retention was provided by maxillary and mandibular lingual bonded retainers.
You're Reading a Preview
Become a DentistryKey membership for Full access and enjoy Unlimited articles
If you are a member. Log in here